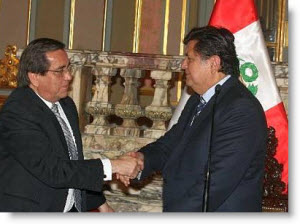 High ranking members of President Alan García's ruling Aprista party expressed support for Congressman Jorge del Castillo's decision to temporarily leave his position as party secretary general, state news agency Andina reported.
Congressman Mauricio Mulder said Del Castillo's decision was important to protect the ruling government party's image from the corruption allegations swirling like thunder clouds squarely over Del Castillo's head.
"In the end this is what had to happen. Hours, days passed and there was a lot of speculation," Mulder said. "The party comes before the individuals."
Mulder's use of the word "individuals" (plural) wasn't necessarily rhetorical.
Omar Quesada — who succeeded Mulder as Institutional Secretary General of APRA following a bare-knuckled party election in March — is also in hot water. He was quoted Tuesday in El Comercio ruling out his own resignation amid allegations of a shady land deal  in the government branch that he used to run, the Agency of Formalization of Informal Property (COFOPRI).
""I am an honest man and very soon we will know everything. The issue of alleged corruption in COFOPRI is not my responsibility but rather that of officials who betrayed my trust, " said Quesada.
Meanwhile, the president of Peru's Congress, Luis Alva Castro, echoed the sentiment that Del Castillo's decision to step aside as Political Party Secretary was necessary for damage control to protect APRA's image.
Del Castillo's leave of absence was made official on Monday during a meeting with Garcia at the Government Palace. It follows allegations implicating him in an oil concession kickback scandal that blew up two years ago on the front pages of Peru's tabloids, and never quite faded away — left to fester.
Del Castillo is a contemporary of President Garcia as a long-time heavy hitter in APRA's upper echelon. He was  mayor of Lima from 1987-89, during Garcia's corruption-riddled first term as president.
When Garcia won reelected in 2006, he made Del Castillo his Prime Minister and Cabinet Chief. He was forced in October 2008 to resign that post for — if nothing else — allowing  on his watch the kind of scandal that inevitably sets in motion a succession of high government heads rolling.
His Cabinet resignation came days after the Sunday night investigative TV news program Cuarto Poder broadcast audio from an illegally recorded phone conversation between Perupetro Vice President Alberto Quimper and Romulo León Alegría, a prominent member of Garcia's ruling Aprista party with a checkered political past. In the recordings, the men allegedly discussed under-the-table payments conditioned on Norwegian Discover Petroleum company obtaining oil exploration concessions.
A week after the first tapes were released to the press, new tapes surfaced in which León allegedly told a Discover representative that Del Castillo could be counted on to provide influence to help clinch a winning bid in the oil block auction.
The political blow back was intense, and included congressional subpoenas served on daily El Comercio's top investigative reporters in an attempt to force them to reveal their sources.
Nationalist party leader, Ollanta Humala, has tried to seize on the corruption allegations to call for the immediate ouster of Garcia administration.
After the revelation two weeks ago of more illegally wire-tapped conversations referencing Del Castillo's name, who remembers that just last January he was publicly contemplating whether to run to replace Garcia when his term comes to an end next year?
Stay tuned.