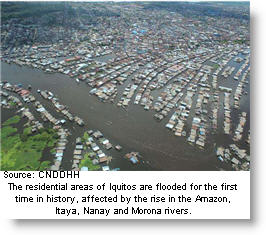 Flooding and landslides caused by heavy rains in Peru have caused the deaths of 53 people over the past six months, according to the country's National Civil Defense Institute, Indeci.
Since November, some 267,000 people have been affected by the rains, daily El Comercio reported.
The rains have affected all of Peru's 25 regions, according to the report, in a rainy season that has continued beyond the usual November-March season, with losses recorded in urban and rural areas, both of housing and crops.
Emergency situation in Iquitos
The most seriously affected region at present is the northeast jungle region of Loreto, where the Amazon and its tributaries have risen to historically high levels from the continuing rains.  Some communities have had to be temporarily relocated in several areas, and currently 43 schools in areas on higher ground are being used to house more than 1,700 families. 
 In the city of Iquitos, the water has risen to flood large sections of residential areas for the first time, placing heavy pressure on water, sewage and garbage services. 
Three people have recently died, including a child, and there are some 184,147 people affected by the rains. Health authorities have also diagnosed 32 cases of leptospirosis in Loreto, which is caused by infected soil or water.  
The Loreto regional health director, Dr. Ana Maria Navarro, has said that plans to eliminate rats in the area "is not appropriate because it will only bring environmental health problems, since dead rats will be dumped in the garbage and create infection hazards."
Prime Minister Oscar Valdes said Thursday that the government is helping to overcome the emergency situation in Loreto.
The regional government of Loreto says that 40,000 houses have been affected by the rains, while 500 education centers have been damaged and 25,000 hectares of crops have been lost.