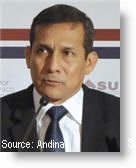 President Ollanta Humala said Wednesday that a possible pardon for Alberto Fujimori, Peru's head of state during the 1990s, is not on the government's agenda, daily El Comercio reported.
Fujimori's family announced last week that he would seek a humanitarian pardon from President Humala. Fujimori is serving a 25 year prison sentence, convicted on charges that he knew of and authorized the killing of 25 people by the paramilitary death squad known as the Colina group, in the early 1990s. He was also convicted of corruption in a subsequent trial.
The pardon request is expected to be filed soon. Fujimori's health has reportedly deteriorated significantly since he was convicted in 2009, and his family says he suffers from cancer in the mouth.   Fujimori is serving his prison sentence in a private apartment within the DINOES Police special operations compound in north Lima, where he is granted unlimited visitor privileges.
Fujimori's son, congressman Kenji Fujimori, has distributed photos of the lesion to the press, and Fujimori's medical consultant, Congressman and physician Alejandro Aguinaga, has said that the illness is extremely serious. 
However, Dr. Juan Postigo, the physician in charge of the head and neck cancer department at INEN, the national cancer hospital, said that Fujimori has needed constant treatment for the past 12 years on the recurring tumors, but that his illness is not terminal.   
 The pardon would be a delicate issue for President Humala as public opinion is highly polarized on the subject.  Fujimori still has large support in some sectors of the population and proof of that is the close election last year between his daughter, Keiko, and President Humala (the main thrust of her campaign was to release her father). 
He is, rightfully, credited with pushing through reforms that turned around the economy and propelling Peru into the 21st century. He is also credited with defeating the Shining Path rebels, for which his supporters insist a blind eye should be turned on the widespread corruption, human rights abuses and dirty political tactics used during his administration to achieve his goals. 
However, under Peruvian law, a presidential pardon is not permitted when the prisoner has been convicted of human rights abuse crimes, including aggravated kidnapping, the only exception being if the prisoner were terminally ill.  Such a pardon would also jeopardize Peru's international agreements, including its membership within the Inter-American Human Rights Court.
But despite the Fujimori family's press statements and interviews, President Humala said he has not received a pardon request yet.
"There is nothing in writing on this issue, and as a result, it isn't on the government's agenda at the moment," he said.
On Tuesday, Humala wrapped up the third summit of South American and Arab nations, which Peru hosted. The summit is aimed at boosting economic and political ties between the regions.
Humala also said that Peru is on the "correct path" for economic and social development. "We are advancing on the correct path and that implies working between the private sector and the public sector."