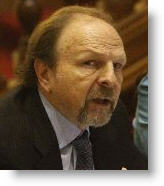 Prime Minister Salomon Lerner Ghitis said Thursday that the government is working on solutions to resolve social conflicts related to mining, agriculture and other sectors, state news agency Andina reported.
"We inherited a problem from the past decade, conflicts in mining, agriculture, regions," Lerner Ghitis said. "But I think we are advancing little by little, first by respecting and listening to all the citizens and trying to resolve their demands."
The most recent conflict to emerge is in northern Peru's Cajamarca region, where local residents have been demanding the government halt the Minas Conga gold project amid concerns about its potential environmental impact.
Minas Conga, which is majority-controlled by US-based Newmont Mining, is a major project and is expected to require an investment of up to $4.8 billion. The operating partner in the project, part of the Yanacocha gold mining company, is the Peruvian-owned Minas Buenaventura.
The company temporarily suspended work at the project Thursday to ensure safety for workers amid protests, but by the evening had started work again. The Ministers of Agriculture, Energy and Mines, and Environment were in Cajamarca this week for meetings with the regional leaders who are against the project but were unable to reach any resolution.  
Meanwhile, the government has said that it will review Conga's environmental impact study, which was approved in October 2010 during President Alan Garcia's administration.
"There is always room for improvement," said Environment minister Ricardo Giesecke. The environmental impact study can be read and re-read, he said, particularly  in sections where assessments could have been rushed or made lightly.  So far, he said, nothing has been found in the study that covers the environmental goods and services to be provided in the case of the El Perol and Azul lakes in the Celendín area to be affected by the mining project.
Earlier in the week, two mayors from the towns in the project's area were in Lima invited by the Cabinet to explain the threats they perceive from the development of the project.
Lerner Ghitis said the government will be impartial in its review of the Conga project. "We don't have any vested interest with any economic power, neither the miners nor the farmers," he said.
"We have a commitment to all Peruvians and we will do our best so that there is more development," he added.
In this decade, mining companies in Peru are planning to invest about $50 billion in different projects.