Housing prices in Lima have skyrocketed by more than 200 percent over the past seven years, but the president of the Central Bank isn't raising alarm bells yet of a possible bubble.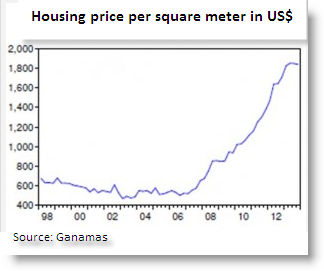 A new publication, Ganamas, said the average price of real estate in Lima was $1,838 per square meter in 2013, up from $521 in 2006, representing a 252 percent increase.
The news magazine said the housing prices have increased on average by 20 percent per year during the last seven years.
The data, which came from a Central Bank study, said that some of the factors that have led to higher prices, spurred by greater demand, are easier access to mortgages, external financing, changes in the exchange rate between the US dollar and Peruvian sol currency, and demographics.
The increase occurred during an economic boom in Peru, when the economy was growing at rates of 6 percent per year driven by a strong inflow of private investment and stronger demand from consumers.
The spike in housing prices has been subject to debate by economists and in the media about a possible housing bubble in the Peruvian capital.
However, Central Bank president Julio Velarde said Tuesday that we should be on the alert, but not alarmed.
"Some of the increases are justified by the economic fundamentals of the country," he said in comments reported by daily Peru.21.