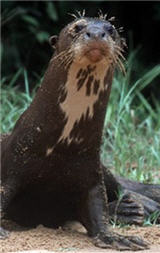 The regional government of Peru's south-eastern Madre de Dios department has declared the giant otter a representative species of the area, paving the way for actions to conserve its habitat.
The department has 90 days to establish a conservation strategy for the giant otter and its habitat, daily El Comercio reported.
The initiative comes after the Frankfurt Zoological Society presented to the government more than 12,000 signatures calling for the declaration.
Madre de Dios' head of foreign trade and tourism office (Dircetur) said the government has already been working on projects to protect the giant otter. One of the initiatives is to improve the areas around the department's Sandoval and Valencia lakes, he said.
In addition to implementing actions to preserve the giant otter habitat, the government will also launch a campaign aimed at providing education to help create an awareness for conservation of the area.
The giant otter, which is also known as the river wolf, is the longest member of the Mustelidae, or weasel family. In addition to Peru, it is also found in Brazil, Bolivia, Colombia, Ecuador, French Guiana, Guyana, Paraguay, Suriname and Venezuela.
The International Union for Conservation of Nature (IUCN) listed the giant otter as endangered in 1999. The main threats to the otter are poaching and, more recently, habitat destruction.