By Paula Dupraz-Dobias in Villa El Salvador ✐
In Villa El Salvador, on Lima's southern periphery, memories of Peru's dark days in the early 1990s are still vivid.
Here, people forced to leave their homes in the country's rural areas due to violence from leftist extremists Shining Path soon encountered the same violence again moving to their new neighborhoods.
"They would come in groups of twenty or thirty at night, when it was dark, to kidnap people, sometimes, young boys and girls," explained Edgar, a taxi driver who had grown up here after his parents left Ayacucho.
He recalled how terrorists blew up power stations leaving neighborhoods in the dark, and more vulnerable to the nightly attacks.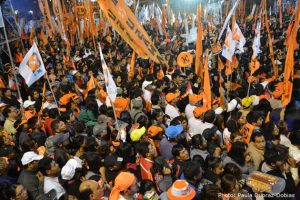 Keiko Fujimori was here on the last official day of campaigning,  for the close of her campaign against her opponent Pedro Pablo Kuczynski.
The event was a massive rally that drew tens of thousands of supporters mostly from Lima's poor migrant neighborhoods such as this one. Some of the Peru's best artists, including Sonia Morales, were invited to animate and woo supporters to cumbia and huayno tunes.
Villa El Salvador has symbolic significance in Peru. It was here that María Moyano, had lead a community group to demand water, electricity and sewage for the sprawling pueblo joven, before she was assassinated in 1992 by Shining Path.
So many who packed around the stage opposite Villa El Salvador's  town hall said they supported Keiko, as she is commonly known, in recognition for the peace and order that her father had brought to the country, as terrorist groups were curbed, albeit with similar tactics.
"Alberto Fujimori was the best president Peru had ever had," said  Carmen Soto Sanchez, a political sympathizer in Villa El Salvador. "Keiko is representing her father. He went all around Peru."
"She has to be even better than her father. Hopefully she will let him out of prison. The poor man, he needs to be freed."
Alberto Fujimori is currently in prison for human rights abuses and corruption. Keiko has in the past said she would have his sentence suspended if elected as president.
Earlier in the week, a strong turnout at a final protest march against Keiko in the centre of Lima highlighted fears that many other Peruvians have to see Alberto Fujimori's daughter become president.
As at earlier NoAKeiko marches, protesters criticized sterilization policies and lethal use of force by the candidate's father's administration, as well as corrupt practices during that period.
While the two candidates economic policies favor open markets, cuts in government subsidies and foreign investment, the final stages of the campaign have witnessed a polarization within their supporter group, between those favorable to Fujimorismo, a blend of policies called by Keiko including a similar strong-handed approach toward crime as her father's, and those often opposed to her family's political legacy, the anti-Fujimoristas.
Narrow margin between candidates
On Friday, Manuel Saavedra, the director of polling firm CPI told the foreign press association that movements in recent polls showing a narrowing margin between the two candidates came largely from Lima voters shifting support from Fujimori to Kuczynski.
Hernan Chaparro, another pollster, suggested that the continuation of negative news regarding members of Fujimori's Fuerza Popular party, could have also contributed to diminishing support of her candidacy in recent days, according to those polls.
In May, José Chlimper, Fuerza Popular's secretary general came under fire for leaking allegedly edited audio to discredit a United States investigation into possible money laundering by congressman Joaquin Ramirez, viewed as the party's bursar.
Chaparro compared the recent slow decrease in Keiko's support to falling support to Cesar Acuña, one of the 19 candidates running at the start of the race. Acuna was ultimately expelled from the race following vote-buying accusations. Popular backing for the candidate also fell following multiple accusations of academic plagiarism.