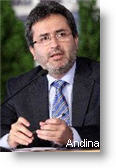 Former President Alan Garcia's pardon of more than 5,500 prisoners, including hundreds of individuals sentenced for drug trafficking, is a "national scandal," a high-level government official said Wednesday.
Cabinet chief Juan Jimenez said that the pardons have contributed in large part to the growing insecurity in Peru, state news agency Andina reported.
"This is a fact that we have to point out now that we are all concerned about security," said Jimenez. "These are not low-level criminals that have been pardoned," he added. 
While crime is lower in Peru than many other Latin American nations, the level of violence has increased and there is a broad perception that it is out of control. Recent daylight killings in Lima and the assassinations of a handful of government officials outside of the capital have raised concerns about the lack of security and put the issue of crime on the national government's agenda.

During Garcia's second term, from 2006 to 2011, 5,500 prisoners were pardoned, including 400 individuals who were convicted of drug trafficking. The information was leaked to the media this week from a congressional commission investigating Garcia's administration.
According to Andina, many of those who were pardoned included entire drug trafficking gangs and producers of cocaine. Peru is one of the world's biggest producers of cocaine, along with Colombia.
Garcia, who appeared before the congressional "mega-commission" Wednesday to answer questions on allegations of corruption in his administration, has defended his administration and the pardons, saying that the controversy is part of a ploy by the Humala administration to prevent his re-election in 2016. Garcia said that all the pardons were given "strictly according to the law" and that many of the drug traffickers released were small-scale traffickers, including local and foreign drug "mules."
Garcia has said that he took a humanitarian view for the pardons, arguing that many of the prisoners didn't deserve to serve long sentences in Peru's harsh, overcrowded jails.
"Everything was done strictly according to the law. If there would have been a request… to give a pardon to a big drug trafficker I wouldn't have done it, because it is prohibited, and I do not have that on my conscience," Garcia said.
"Those capos with collars and ties who wander through the streets of Lima… won't have any privilege in my government. But for the poor people I have compassion and understanding for them," he said.