This article by Paul Goulder looks at the 2011 Peru presidential election from the point of view of economics and history, and first from the economic experience of Peru from 1960 to 2007.   —
Peru has spent forty-five of the last fifty years bumping along the bottom of a GNP (gross national product) chart:

Only in recent years has there been something like lift-off. This article argues that Peru has a once-in-a-decade[1] chance of catching up with not only the other two economies on the Chart in section 1 (Chile and Korea) but even the "really high income" countries in the subsequent table (e.g. Norway). It can do this by investing selectively but massively in education and in high-end investment-good demand.
At the close of the opinion polling this week it seemed that there was a slight movement towards Humala and his now companion-in-arms, ex-President Toledo. This is good news for those who want Peru to rub shoulders with the really high income countries through the high-trust development route outlined in this article, as Toledo particularly has the required experience and knowledge to follow this through and a belief in the free society necessary for the nurture of creative enterprise and a can-do attitude[2] to new projects.
The electoral process so far[3] has been characterized by indications of negative voting, which is a tendency of a second round system. In a sense, a state of "electoral fear" hangs over Peru: fear of the supposed intentions of the other candidate and an ultimate flickering fear of a descent into chaos, of renewed terrorism, corruption, state killings and of Mexican levels of drug-related assassinations.
In spite of recent gains, the economy is way behind others  (see Jaws I and II below) with which it was level-pegging until the early seventies.  But the recent miracle growth rates permit thoughts of playing catch-up with the really high-income nations – and why not? We suggest that the magic something that has gone right for Peru – the "something" that we recognize as successful and which the electorate wants to keep – has not been well identified by the political process. It has been over-simplified by political campaigners but the devil is in the detail and neither campaign likes specifics overmuch.
1.JAWS I and II – THE INCOME AND DEVELOPMENT GAP
 The Peruvian economic story from 1960 until the more recent  boom (in Peru) and crisis (US and Europe).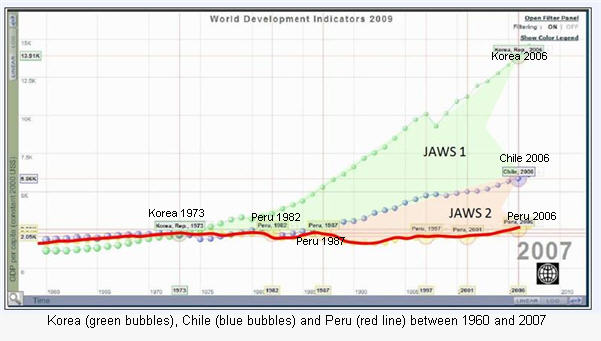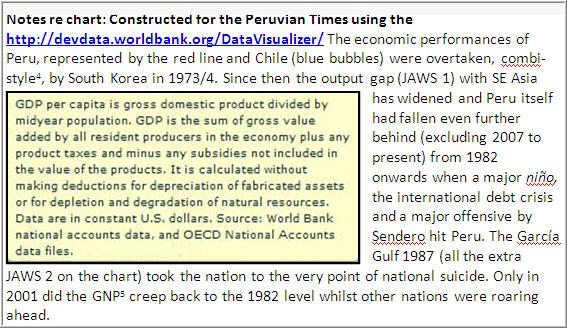 Since 2006/7 the situation has improved as Peru has notched up an average 7 to 8 percent growth rate in real terms: 3,276 to 4,469 (but compared to 68,360 to 84,640 for Norway) current dollars per person for years 2006-9. There is still a very long way to go.

2. VISIONS – TURNING A TEMPORARY BOOM INTO A PERMANENT FEATURE
The second round electoral system – as we have seen over the last few weeks – tends to encourage an intense period of character assassinations. The winner in the opinion polls will simply be the candidate who commands the support of the most newspaper and TV channels, or the media in general. As most of these are in commercial hands, their support will tend to go to a pro-business candidate – unless they can be otherwise "bought." So the "fear of the other candidate's intentions" has driven the election debate into a "she is a greater threat to democracy" and "he is a greater threat to the economy" corner. 
This is a pity because the economic gains of the last few years provide the necessary – but not sufficient – conditions for the emergence of a visionary leader who can turn a temporary boom into a permanent feature.  The debate should have generated an intense critique of each candidate's vision for Peru. This in turn will have a "societal effect" as Peru converts into a country with a national mission that is more than a slogan: "building a high trust society," "conserving the environment," "water for all," "defeating rascism." Referring to Peru´s first major boom – that of guano (1840 to 1879) – the country's great mid-twentieth century historian, Jorge Basadre, warned of what he called the "prosperidad falaz." We have been warned.
3. FANTASIA WITHOUT MUSIC – PERU IN 2025
Imagine the following (more surrealism than fiction) written, say, fourteen years into the future.
"During the last few years The Peruvian Model (the PM) has become known world-wide as a beacon of hope for the globe. The PM has earned its international acclaim in (a) its model education system – turned round in a decade or so – with 87 percent of all schools raised to the level of the ten best in the country, (b) a final rejection of racism – and inter-racial strife – with a whole raft of policies delivering equal opportunities to all Peruvians, (c) an ecologically balanced economy based on land property rights and stakeholder shares in resource-concession companies paralleled by a land-value tax,  (d) a business driven social model where corporations are given the right incentives to promote responsible community projects and (e) the use of mobile (replacement) executive boards to be parachuted into inefficient or unworthy companies. And it has worked. A series of world-wide ecological disasters following the Japanese Tsunami of 2011 had brought the world to the edge of self-inflicted disaster. This intensified the search by global institutions for an economic model that really addressed the issues. They found the new Peruvian Model already in place which put Peru ahead of Switzerland and Sweden on a number of criteria (but not yet, of course, in terms of Net National Income per head), and it is shortly to be adopted – by consent – by almost all the countries of the European Union and the US, China and Russia are to follow. The year is 2025.
And yet the PM almost didn't happen – no, not even in Peru. In the election of 2011 there had been a bizarre vote-counting fraud.  Ex-President Toledo, Vargas Llosa and Humala had led the campaign for a re-run, whilst Fujimori's daughter had disowned both her party and her father and set up a new political campaign taking 75% of her Congress representatives with her. The at-one-time unlikely trio had formed a national coalition emergency government bringing in the new much-vaunted education policy and the other features of the (new) Peruvian Model."
 Fact or fiction? We will know in a few days!
4. WHY THE PERUVIAN MODEL (PM) IS MORE THAN ECONOMICS
The existing Economic Model (EM) has been declared sacred. The Cardinal-Archbishop says so. It's been beatified and is well on its way to sainthood.
Though it's not a "model." It has some elements of the neo-liberal and monetarist but not all. There are still many blocks to competition.
Often what politicians are referring to is not much more than a "feel-good factor for some sectors," driven by exceptional growth rates. The Euro-American (US) world is in economic crisis but Peru's economy has averaged 8 percent growth over five years. These high rates are put down to temporary features – such as a boom in raw material prices, a massive inflow of foreign capital, a low dollar – and also to more fundamental changes such as forming stronger links to China, implying a shift from US dependency.
The PM is a much more "complex and sensitive modeling" that includes multiple creative corners of Peruvian society – which surface from time to time in the Peruvian Times. Let's attempt to list the major changes (to explanatory factors in the model) over the last few decades.
5. THE MANY CONTRIBUTORS TO THE SUCCESS OF THE PAST SEVERAL YEARS
The more permanent changes – and therefore the more reliable in the long run – include more women professionals in the economy; more people from the Peruvian heartlands (andinos and others) in professional and executive jobs; a crackdown on corruption[4] and immunity (Paniagua and Toledo administrations); a welcoming attitude to information technologies; some dividend from the expansion of Conafu-universities; a "delayed" but improved public infrastructure; a breakthrough into international markets; low import taxes; more Peruvians abroad (returning reskilled / sending remittances); more irrigated land; a "diversification of spiritual / religious life" (secularization, growth of new religions); some inroads into the "low trust" society[5]; a renaissance of cultural life; some intercultural education; ecologism; some success in titling (titulation of invaded land etc); very dynamic marginal informal sectors with a more robust process of formalization; balancing the national budget (= low inflation); some progress with "continuity" – public servants who finish or are allowed to finish the job; and the list – not written in any particular order – continues.
6. THE MAGIC SOMETHING THAT HAS GONE RIGHT FOR PERU
In brief, the PM is much more than the economic model. It has multiple sectors, a variety of actors and is intensely "Peruvian." It is the "something" that we recognize as successful and which the electorate wants to keep. But it has not been well identified by the political process – partly because of the nature of the second round system. Many of the leaders, innovators and creative entrepreneurs who have been responsible for the model and its success have rallied recently to the Humala banner – some because they fear that the authoritarian government plus under-regulated markets of the Fujimori formula will stunt the creativity of the "real Peru," as would restrictions on the associated democratic model (a clampdown on democratic freedoms).
In short, the aim of this article is to disentangle the "Economic Model" (EM) from the actual "Peruvian Model" (PM[6] – the real Peru). The EM has become sacred scripture for political debate: "I swear I will abide by the ten commandments of the Economic Model." The EM is the market plus monetarism while the Peruvian model, or formula, is a far richer being and describes (or attempts to describe – because it is a massive task) what has been happening in Peru.
7. CHINA AND PERU
China[7] has taken enormous strides in building human capital. The adult literacy rate is now almost 95 per cent, and secondary school enrolment rates are up to 80 per cent. Shanghai's 15-year-old students were recently ranked first globally in mathematics and reading as per the standardized PISA metric. Chinese universities now graduate more than 1.5 million engineers and scientists annually. The country is well on its way to a knowledge-based economy.
Peru has had good literacy and secondary school rates for some time but has significantly failed to give emphasis to mathematics, engineering and science and has been almost entirely negligent about teaching Reading & Writing in the students' parental language.
8. INTERNATIONAL VIEWPOINT
The eyes of the world are on Peru at this time of a critical election. The "BBC de Londres" views the election as  a choice between "wallets and consciences." It adds that "Keiko Fujimori's last name, for many Peruvians, is synonymous with the destruction of democratic institutions, systemic corruption and a murderous counter-insurgency against Maoist Shining Path guerrillas in the 1990s.
Voting with your conscience would mean voting for Ollanta Humala, a former army officer who calls himself a nationalist. An essay on democracy, economy, history and the election." However although this view is qualified in the text, emphasizing the "wallets and consciences" aspect is not representative of this election.
9. EL LIDERAZGO DEL PAIS, con algunas excepciones, no ha apreciado el recurso más precioso del Perú: su gente
Why should this be written in (bad) Spanish? Well, I was chatting to this bloke in 1974. We were having tea together in his garden, over the road from the "Golf" in San Isidro and this is how the quote is remembered: " la razón – tal vez la razón principal – que la tasa del desarrollo del Peru en el pasado no ha sido 'satisfecha' es que el liderazgo del país, con algunas excepciones, no ha apreciado el recurso más precioso del Perú, su gente…Y..su gente merece la mejor educación."  (The reason – perhaps the main reason – why Peru's development rate in the past has not been 'satisfied' is that the country's leadership, with some exceptions, has not appreciated Peru's most precious resource: its people…. And… its people deserve the best education."
And for that, a priority must be given to educational reform. The bloke was an ex-President of Peru who had been toppled by a coup.
10. WHY THE ELECTORAL SYSTEM IS "UNFAIR" AND DOES NOT APPROXIMATE TO DEMOCRACY
The electoral system says that Peruvians have to vote but at the same time the "segunda vuelta" system deprives them of the candidates that they might prefer.
The long interval between the first and second rounds allows the media, if they so choose, time to character-assassinate a presidential candidate.
As my grandson would say, "It's not fair." So let's have a (somewhat lighthearted) look at a couple or so of the other quirky aspects of Peruvian political history.
11. THERE ARE STILL SOME THINGS TO BE LEARNED FROM HISTORY: the worse the record, it seems the more likely the president will be voted back
Definition: There is a type of Peruvian president who performs – or whose term of office ends – so disastrously that the electorate clamor for his or his party's return some years later. This defies normal logic and is, que se sepa, a feature unique to the Peruvian electoral process. It could be explained as late colonial psychosis, electorate amnesia and the psephology of the segunda vuelta.
Exhibit A: García (1985-90) who led – or perhaps fed – his nation to the dogs: he was voted back in 2006.
Exhibit B: Fujimori who oversaw massacres of the innocent and the biggest corruption scandal in the Americas, ever, and then ran away to Japan, was impeached, extradited and imprisoned for 25 years: his party is currently on track for winning 2011, even though he himself is in prison.
12. THE BLUNDY: the more decent the president, the more likely to be toppled.
There have been quite a few Peruvian presidents whose term of office ended prematurely  – sometimes through no fault of their own – because of a coup d'état, putsch or assassination. A sub-category of this type could be called the Blundy, who is a Peruvian president of any name who is a good democrat, fair and even-handed and thinks of his country before he thinks of his pocket. Their policies are blocked – usually by APRA – and they themselves are then toppled by a military coup or putsch as being too "weak for the job." Blundies, it might be said, blunder into well-meaning deep water.
Exhibit C: Bustamante y Rivero was seen as a great talent, a "good democratic chap," a constitutionalist (and/but an Arequipeño) who was blocked by APRA and then ousted by a military coup d'état. 
Exhibit D: Belaunde – a "blundy" (gringo pronunciation of belaunde) is named after this president. He was another decent chap whose policies, had they been enacted, might have proved the salvation of his country. But they were blocked by APRA (again?) and in the ensuing crisis . . . (hold on – we're coming to the point) . . .
"Belaunde was ousted by a military coup and the armed forces under Gen. Velasco governed for (a number of) years. Then agrarian reform miscarried disastrously, they took over channels of communication – press, TV, radio, (and they) discouraged foreign investment at every turn. Gen. Morales Bermudez of the moderate army faction engineered the displacement of Velasco & eventually, opened the way to free elections, when Belaunde made a triumphal (but over-confident) come-back. The Apra party under Alan Garcia, was voted in (in 1985) and just about ruined the economy, leaving large debts and almost complete rupture with foreign sources of funding. When Fujimori was voted in I don't think he fully realized the state of the exchequer. Then came the fam(ous) "Fuji-shock" which caused much hardship but eventually stabilized the economy. Fuji also combated the then rampant terrorism that cost (thousands) of lives on all sides, drove people away from their homelands & brought destruction to the very streets of Lima. Extreme poverty especially in the hinterland was undoubtedly a root cause of terrorism. And there was much violent repression – it was a war."
The passage above is quoted from Peggy Massey who was a long-serving journalist with the Peruvian Times, the now-defunct La Prensa and also other publications. She composed this as a handwritten addenda to Pike, F. "A History of Modern Peru." Peggy wrote, I think, in the spirit that Pike had finished his book just before the Velasco military coup and arguably before one of the turning points in Peruvian history. Future readers of her copy deserved a sequel!  Peggy Massey is better known for her bilingual series Good Morning, Buenos Días in La Prensa 1969-1980.
13.PERU AND KOREA'S ECONOMIES UNDER THE LENS
Returning to the graph above to compare Peru's performance with that of Chile and, particularly, one of the Asian Tigers: South Korea.
In 1960 South Korea was just five years out of probably the most traumatic period of its history. The country had endured thirty-five years of colonization (by Japan 1910-1945) and then became during the next decade an ideological battleground for the US, the UK & other Allies on the one hand and China & Russia. And a playground for their tanks, bombers and warships. The country had been flattened – hardly a building or factory left standing.
In a nutshell: Starting from virtually zero around 1955, Korea overtook both Chile and Peru in 1973.
Between 1960 and 1982 Chile and Peru had roughly similar output per head (Chile: blue balls. Peru: faint yellow balls or black line), averaging approx US$ 2K (2,000).
In 1982 the international sovereign debt crisis hits both Chile and Peru and Sendero Luminoso starts up operations in earnest, driving out foreign capital and reducing everyday economic life to a shambles and the center of Lima to an apocalyptic state.
Until 1982 Peru had just about level-pegged with Chile but after that the wider effects of Sendero (see chart from 1982) were made even wider by the "Garcia Gulf" (see 1987). From that date the gap with Chile and also Korea really opens up as Sendero and the García "policies" bite harder. In 2000 the unlikely twosome of Jorge Chavez in the Central Bank and Carlos Boloña in the Treasury steered Fujimori and the Peruvian economy into orthodoxy, towards a balanced budget and controlled inflation. However the peace dividend heralded by the capture of Sendero boss Guzmán and the growing economy was squandered in the Montesinos corruption scandals. To cut a long story short, by 2007 Korea had twice the per capita output of Chile, which in turn had twice the output of Peru – per person.
The Korean performance had been almost consistently positive as Peru's had been negative. Even the South-East Asia Financial Crisis (see chart 1997) had hardly deflected Korea from its upward growth track. How had Korea achieved this?
Korea was armed with its weapons of mass construction: a superb "double" education system; high levels of inter-personal respect and trust; team-playing family-entrepreneurial technologically-creative enterprises; massive injections of US capital and troop expenditure; we-can-build-it-better-than-you mentality (One French TGV train was bought stripped down and several scores of lighter, faster Korean versions reconstructed); a brand new infrastructure (the demobbed army was sucked up into a massive reconstruction machine that went on later to rebuild more than its fair share of the growing globalized economy); a prime location (the vectors between Beijing &Tokyo and that between Shanghai & Vladivostok cross at Seoul); a spiritual life based around urban, engagé, reformed Christianity (after their double dose of education from 8am to 8pm, Korean scholars pop into their local church for a game of ping-pong) and rural Buddhism (week-end excursions can be to a family shrine); a common enemy (Japan, somewhat replaced by North Korea); colonial masters who had been on the technological ascendency (Spain left a technologically-backward economy and an unreformed anti-science Catholicism in Peru and Chile);  99.9% honest and punctual (at least outside government!).
Well, it´s getting late so we had better stop this ever so slightly over-egged Korean eulogy. And the lesson[8] from all this?
Avoid civil war and the "resurgence of insurgency" at all costs! Create a fairer society.
Boycott
And oh! If you are thinking of boycotting the election, you will not only incur a fine – if you are under 70 – in Peru but also be accused of reusing another of these "blundy" words. Boycott* is defined as follows: "To abstain from or act together in abstaining from using, buying, or dealing with – as an expression of protest or disfavor or as a means of coercion." It is derived from the name[9] of Charles C. Boycott.
14. CONCLUSION: go for a high-trust, knowledge-based economy
This article argues that Peru has a once in a decade chance of catching up with not only the other two economies on the Chart above (Chile and Korea) but even the "really high income" countries in the subsequent table (e.g. Norway).
It can do this by investing selectively but massively in education. It should cut taxes to any families and organizations who support learners of any age through individual sponsorship schemes. Schools will attract the most able students irrespective of class, creed or ethnic background. The government should further cut taxes to encourage companies to locate not only their extractive and agricultural activities but also their "knowledge-based" operations such as R&D. Mining companies, for example, would then effectively be paying the school and university fees of local children rather than pouring funds into the black hole of Lima, or worse, lining the pockets of government ministers.
A high-trust economy should be encouraged by ditching the mestizo-first policies in favor of multiple heritage social policies (no ethnic background privileged). A second line of defense would give special help to the less able students.  In higher education, external examiners of master's courses would be given greater powers and independence. All teachers would be offered further training.
______________________________________
http://www.zotero.org/groups/perustudies/items/collection/R3PWH9BI
---