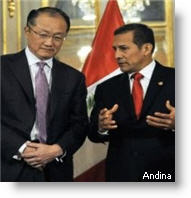 World Bank president Jim Yong Kim left Lima en route to Santiago Thursday, following a five-day visit in Peru that included protocol and work meetings with President Humala and cabinet ministers as well as a visit to a development program outside Cusco, and to the north Lima district of Carabayllo, where he worked for many years on TB reduction programs.
A medical doctor and anthropologist, a former head of departments at Harvard Medical School, and president of Dartmouth College until last year,  Kim, 53, is the first non-banker, politician or economist to be elected to head the World Bank.   He brings a different focus to the bank's boardroom, and also a different approach to the job itself.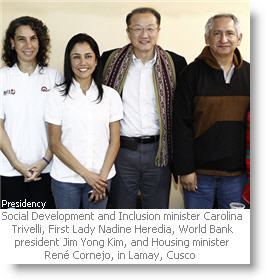 One of his first visits on arrival in Lima was to Carabayllo, a low income area of north Lima where he was received with hugs and great celebration— through the Partners in Health that he co-founded in 1987, he personally worked for over a decade in this area on programs to treat and reduce drug-resistant strains of tuberculosis and also HIV/AIDS.   In fact, he was visiting Carabayllo again in April last year when he heard of his election to the World Bank.
Kim's week in Lima has included a conversation on Wednesday with students at the Católica University, meetings with the university rectors and with Liberation Theology author Gustavo Gutierrez, and meetings with the Minister of Health, Midori de Habich, as well as the head of the state health fund system, Dr. Virginia Baffigo.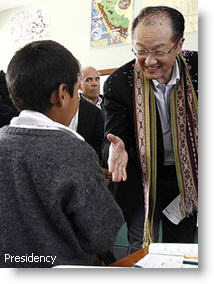 He also visited the village of Lamay, near Calca outside Cusco, where with the first lady, Nadine Heredia, the minister of Social Development and Inclusion, Carolina Trivelli, and the Housing minister René Cornejo, he saw programs in action that the World Bank supports financially — Qali Warma, which provides school meals to 2.5 million children nationwide, the Juntos program that grants small stipends to 680,000 families living in extreme poverty,  and Pension 65, which provides a small pension to some 250,000 old people in extreme poverty.
According to government figures, 25.8 percent of the population, or 7.8 million people, live on less than $109 per month.
With President Humala earlier in the week, Kim signed a bank agreement to finance a basic education program for six million school children by improving teaching facilities and improved selection of school principals.   In meetings with the minister of Economy, Luis Miguel Castilla, and the president of the Latin American Development Bank (CAF), talks centered on a World Bank loan of $700 million, which includes education, social inclusion programs, poverty reduction, as well as infrastructure —to possibly include financing for Lima's Metro 2 line for mass transport, seen as a key component in improving the lives of low-income Limeños, who are the majority of the city's population, particularly because the transport system uses clean energy.
On several occasions during his visit, Kim stressed the important impact of the current administration's focus on social development and inclusion to reduce poverty.  In an interview with journalist Sonia Goldenberg, published in El Comercio, Kim said "Peru can be a true model for the rest of the world." 
Days before arriving in Lima, the Washington Post published an op-ed by Dr. Kim on the need to do more towards climate change.