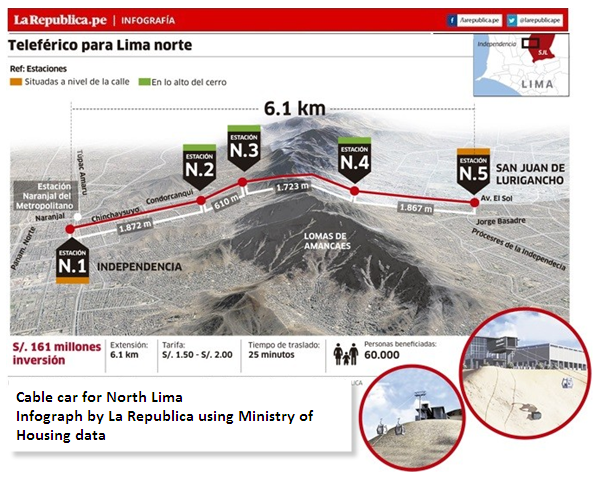 One of the announcements made by President Ollanta Humala during his address to Congress on July 28 was the project to build two cable car systems to connect the sprawling urban areas in North Lima.
The project has met with criticism from some analysts who say that cable cars are not designed to handle such large numbers of passengers.
But it was also picked up quickly as a source of amusement, given that much of the chaotic transport system that former city mayor Susana Villaran had tried to tame has now returned.
Although the systems would be operated by the central government rather than the city, it took little to conjure up the image that the winners of the project bid could be the infamous Orion 'combi' bus company, which has at least a dozen deaths and hundreds of traffic tickets to its "credit."
The project has been proposed by the Ministry of Housing and Construction, and one of the cable car systems, at El Agustino, would provide an added attraction to a government housing project for 8,000 families on the hillsides of the district.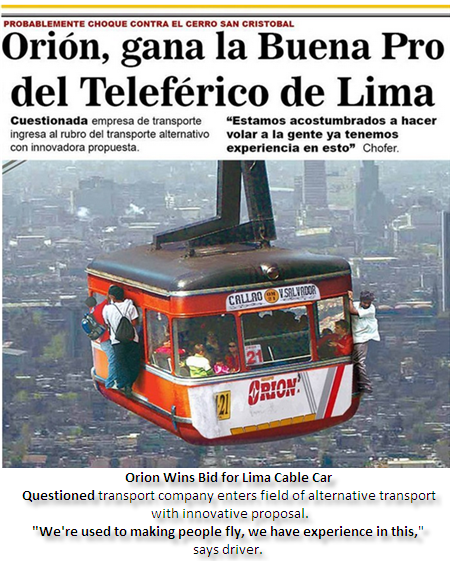 The second cable car system will be an alternative transport for the populous districts of Comas and Independencia, with some 800,000 people, which are separated on the west of a range of hills from the northeast district of San Juan de Lurigancho, with a population of over one million.
The Metropolitano bus service and the Metro or electric train now connect most north Lima districts to the south of the city, cutting travel time from one end to the other down to about 40 minutes, compared to the average of two hours in a bus in heavy traffic.   However, these transportation systems already fall short of demand, with long lines of passengers at peak hours.
Meanwhile, San Juan de Lurigancho, SJL, is also to be connected — most probably in early 2016 —to the Rimac, downtown Lima and access to the ring road and La Molina area by twin tunnels under the Santa Rosa hill. The project, which has had a 4-year delay due to construction failures, will shorten travel time between SJL and downtown Lima to 20 minutes, from an average of an hour.
But any connection between the districts on either side of the range of hills is still tedious and time-consuming.
Total investment is expected to be more than S/.268 million ($90 mn).