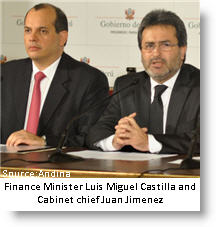 Peru's Cabinet Chief Juan Jimenez said Tuesday that next year's budget includes a commitment to bringing peace to the coca-growing Apurimac, Ene and Mantaro river valleys, known as the VRAEM in strategy policies.
Jimenez and Economy and Finance Minister Luis Miguel Castilla presented the government's budget for 2013 to Congress on Tuesday. Legislators will need to give a green-light to the budget.
For the VRAEM, the government is proposing a budget of 2.75 billion soles ($1.05 billion). "The resources destined for the VRAEM in 2013 will reach 2.75 billion, which includes 1,321 investment projects, up 66 percent from the budget in 2012," Jimenez said, according to state news agency Andina.
President Ollanta Humala's administration has promised to boost spending in the VRAEM as part of its effort to increase the state's presence.
The VRAEM, a broad stretch of mountainous jungle region in south-central Peru that straddles parts of the departments of Cusco, Huancavelica, Ayacucho and Junin, is home to Peru's largest concentration of coca fields and the remnants of the Shining Path rebels. The heavily-armed splinter group, which is a key player in the VRAEM's drug production and trafficking, has claimed responsibility for killing numerous police officers and soldiers in the area.
Last week, the government installed a commission aimed at pacifying the region and brining economic development, known as Codevraem.