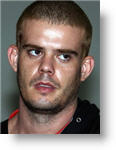 Dutch citizen Joran Van der Sloot, convicted of a 2010 murder in Lima, will be extradited to the United States, but only following the completion of his 28-year sentence, Peru's Supreme Court ruled on Monday.
The resolution by the Supreme Court approved a request by the Federal Court of Alabama against Van der Sloot for his extradition to stand charges in the U.S. for extorting the mother of Natalie Holloway, Radio Programas reported.
Van der Sloot, 24, was arrested three times in Aruba for the 2005 disappearance of Holloway, a high-school graduate from Alabama, but he was never charged. The Dutchman— aged 17 at the time— allegedly asked the mother for $250,000 in order to reveal where Holloway's body was located.
In Peru, Van der Sloot is serving the 28-year sentence for the murder of Stephany Flores, a 21-year-old University of Lima business administration student whom he met at a casino in Lima's tourist Miraflores district.