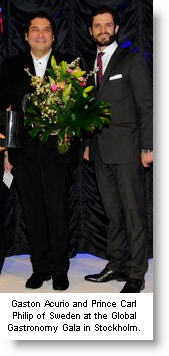 Peru's star chef, Gaston Acurio, has been awarded the 2013 Global Gastronomy Prize by Sweden's White Guide. The prize was presented by Prince Carl Philip in a gala ceremony yesterday at Stockholm's Grand Hotel, where prizes were also given to the world's top restaurant, bar and innovators.
Acurio's award was given in recognition of his contribution to "developing a rich and forward-looking local gastronomy —Novoandina cuisine— that retrieves traditional and new raw materials from the Pacific depths, Andean heights and Amazon jungles, with the potential to solve many of our health and food security issues, and for its strong commitment to chef education of poor youngsters in South America."
Acurio was accompanied by Astrid and by their key team of chefs  — Mitsuharu Tsumura, Diego Muñoz, Victoriano López and Emilio Macías.
The Global Gastronomy prize has previously been won by Ferran Adrià of Spain, Charlie Trotter of Chicago, Fergus Henderson of London, René Redzepi of Copenhagen, Alain Passard of Paris and David Chang of New York.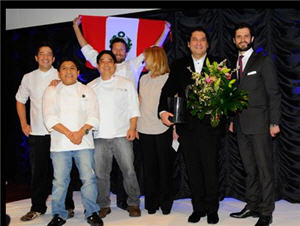 Son of a prominent politician, Acurio's cooking career began in Paris when he abandoned law studies to enter Le Cordon Bleu cooking school, and where he met his wife, Astrid Gutsche, who was studying to be a pastry chef.   Acurio returned to Peru in 1994, and in Lima they founded Astrid y Gaston, which last year ranked 35th among the world's best restaurants.
The Acurio restaurant empire in Lima also includes the T'anta bistros, La Mar, Pasquale, Panchita , Madam Tusan, and Maido. They also run some 35 restaurants in the U.S., Europe and South America.  In Chicago, they are scheduled to open an upmarket Peruvian roast chicken (pollo a la brasa) restaurant.
One of Acurio's major achievements is the annual Mistura food fair held in Lima, organized by the Apega organization which he founded with like-minded colleagues, including cookbook author Mariano Valderrama and publisher Bernardo Roca Rey. The fair brings together small farmers from all over Peru, a wide selection of street and restaurant cooks and chefs, and leading chefs from all over the world.