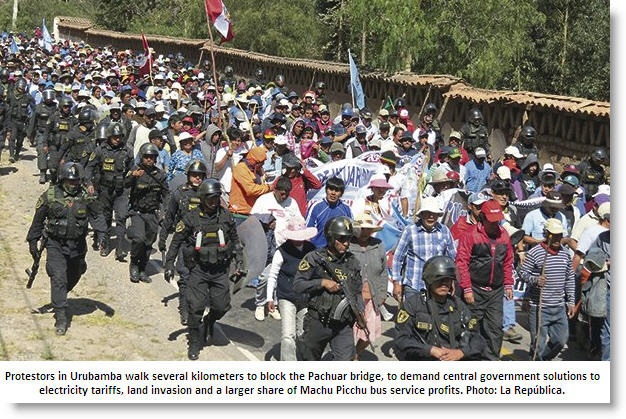 Authorities from the Prime Minister's office flew to Cusco early this morning to seek solutions with the Urubamba valley government, which is threatening to hold a strike and block access to Machu Picchu if its demands are not met.
Earlier this week the valley held a 48-hour strike  for three specific demands. Although it did not block the tourism routes in the valley nor access to the citadel, travel operators reported cancellations.
One of the demands is that Electro Sur Este lower its electricity rates, which reportedly have risen 200%.   Victor Murillo, operations chief at Osinergmin, the energy and mines regulatory body, said a technical team is in Urubamba to verify the claims —especially whether the demands are on the actual rate per KwH or on the amount invoiced for consumption.  Previously, rates in much of the valley were subsidized through a tariff compensation mechanism in a Social Inclusion Energy Fund for low income areas, but Urubamba authorities say that the tourism boom in the valley has led Electro Sur Este to raise the rates on even rural farmers.
The other demands are against the Tambo del Inka hotel, owned by the Brescia group, which the provincial council accuses of invading lands on the bank of the Vilcanota River and closing an access road to the river; and against Consettur, which has the monopoly transport concession on the Hiram Bingham road between Machu Picchu Pueblo (Aguas Calientes) and the Inca citadel — Urubamba authorities say Consettur is not paying the local government a fair share of its income.
According to Lucio Matheus, head of the Defense Front for the Interests of Urubamba, Consettur earns 50 million soles a year (around $15mn) bussing tourists to and from Machu Picchu but only pays the Urubamba government  $60,000 a year.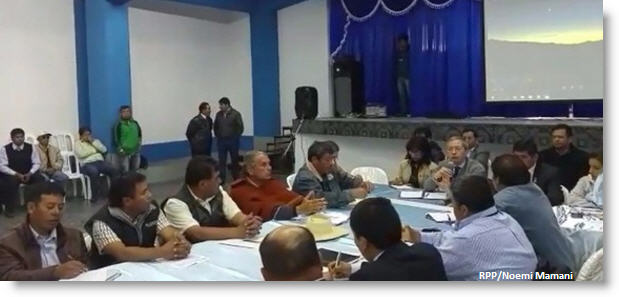 Consettur has been operating the route under an exclusive 30-year concession since 1995. In February 2015, however, the consumer protection institute Indecopi slapped a fine of close to $58,000 on the transport company for what proved to be a false concession contract.  Investigations led to the discovery of two contracts, both with the same date, with one granting Consettur the exclusive route for two years and the other for 30 years.
On Thursday night, before the arrival of central government representatives, the Urubamba valley council voted to immediately cancel Consettur's contract, a decision that would first have to go through a legal process.  No indication was given on which transport company would provide the Machu Picchu service, at the height of the tourist season.