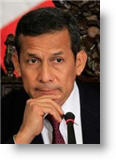 President Ollanta Humala is to meet on Friday with his Chinese counterpart, Xi Jinping, as the South American leader looks to boost ties with the Asian country.
Humala left for China on Wednesday, where he is to attend the annual meeting  of the Boao economic forum, state news agency Andina reported.
"Today, China has become a giant and we want to walk alongside the giant. We are aware of the importance China means for us," Humala told Chinese state-news agency Xinhua before leaving on the trip.
The Peruvian leader is to meet with Xi Jinping, who in March was appointed President of China, on Friday. Humala will then participate in the Boao Forum, which is held annually in the southern coastal resort of Boao, Hainan province, since 2001 as a regional Asian version of the World Economic Forum in Davos. In addition to world leaders and regional delegates, others attending the forum include the International Monetary Fund's chief, Christine Lagarde.
Andina said that Humala will also meet with the leaders of Australia, Mexico and New Zealand, who will be in China for the forum.
On Sunday, Humala plans to travel to Beijing where he will meet with Chinese Prime Minister Li Kequiang, as well as representatives from the private-sector. He will then head to Shanghai to participate in a Peruvian road show organized by the Ministry of Foreign Trade and PromPeru to attract investors to Peru.
China has become an increasingly important economic partner for Peru. The countries signed a free trade agreement in during President Alan Garcia's administration.
Peruvian exports to China have increased 46 percent since 2010. China's main demand for Peruvian products is copper and other minerals. Today, bilateral trade between the two countries is worth more than $13 billion, according to Andina.