Congressman Yonhy Lescano has said he will present a demand to Peru's highest court, the Constitutional Tribunal, seeking the repeal of two legislative decrees that critics say are unconstitutional, CNR news service reported.
Urgent Decrees 001 and 002 were announced in January and seek to facilitate private investments in 33 projects that are declared a "national necessity." Critics have pointed out that the decrees allow the projects to bypass environmental permits normally required for approval. 
"It is a scandal that the government tries to knock down top priorities and eliminate the presentation of the [environmental impact] study in the initial stage of the tender and only require it when the project is being carried out," Lescano said.
Thirty legislators are needed to sign the demand in order to present it to the Constitutional Tribunal.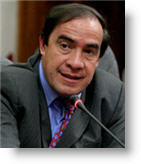 "I need 25 percent of parliamentarians, that is to say 30 legislators, to become aware of the gravity of these two decrees and support the demand because the concession process for the 33 mega projects should be carried out through all the legal procedures, especially if they are large works that will require investment commitments of $2.0 billion," he said.
Among the non-government institutions who are appealing to Congress on the decrees are the Legal Defense Institute, IDL, and the Peruvian Environmental Law Society, SPDA.
Peru's ombudsman, Beatriz Merino, has also agreed that the decrees are unconstitutional and called on lawmakers to support the demand.  Other critics question the sudden rush of mega projects only five months before a new administration is sworn in.
The projects include, among others, an international airport in Chinchero, Cuzco, a port in the jungle city of Iquitos, and a petroleum hub in Piura's Bayovar province.
Another project is that of a minerals dock at the port of Callao, which is being questioned by retired Adm. Jorge Montoya, former head of the joint chiefs of staff of the armed forces.  The minerals pipeline project, which includes a multipurpose loading dock, will crowd existing port facilities, Montoya told Rosa Maria Palacios of Prensa Libre, and hamper the exit of maritime and naval ships from the port in the event of an emergency. The legislation also permits taking over naval space in the port.