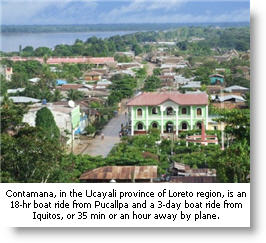 Some 300 mototaxis – the three-wheeled vehicles that are ubiquitous in the provinces and even some Lima districts– lit up a remote jungle airstrip Wednesday night to help a small plane land and pick up three sick people, including a baby, bound for a hospital in a larger town.
An emergency call over Radio Feroz asked mototaxi drivers in the jungle town of Contamana, in Peru's northeast Loreto region, to turn up at the local airstrip and line their vehicles on the edge of the 800-meter runway, and then turn on their lights to allow a small aircraft to land and shortly afterwards take off. 
The coordinations had been made by medics at the Contamana hospital with those in Pucallpa, further south, where the North American Float Plane Services company, based at Lake Yarinacocha, was asked to help with the emergency night flight.  
The only access between both towns is by boat, an 18-hour ride on the Ucayali river, or a 35-min flight by light aircraft.
The sick —Melita Murrieta, 31, and her two-day-old baby, and Samuel Tamani, 17 — were  successfully evacuated to a hospital in Pucallpa, the capital city in the region of Ucayali, Radioprogramas reported.    They had been diagnosed with leptospirosis, a bacterial disease that can be fatal. 
"We have always been people with a heart," said Adolfo Lobo, a radio host in Contamana, was reported by AFP as saying.