Susana Villaran is expected to receive her credentials as Mayor of Lima next week, now that Peru's National Office of Electoral Processes, ONPE, has finished counting the ballots, confirming the victory of Susana Villaran of the Social Force Party, daily Gestion reported.
ONPE announced the final results on Thursday at 4:04 p.m., more than a month after residents in Lima went to the polls.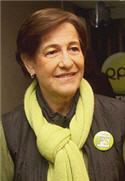 With 100% of the votes counted, Villaran increased her razor thin lead over her conservative opponent Lourdes Flores by 38,022 votes, or less than 1 percent of the total votes.
Flores, of Unidad Nacional, conceded defeat early last week when ONPE had counted 94% of the votes, which consistently showed Villaran in the lead.
In total, Villaran received more than 1.74 million votes, or 38.39 percent, compared to Flores with almost 1.71 million, or 37.56 percent.
Humerto Lay of the National Restauration Party finished with 8.61% of votes.
Villaran will assume the head of Lima's municipality on January 1. In the meantime, she has called on the acting mayor, Marco Parra, to hold off on making any major decisions until her administration takes office. Lima's previous mayor, Luis Castañeda, resigned from his post in October in order to run for president in Peru's general elections in April 2011.
"The new administration should make the big decisions for the city," Radioprogramas reported Villaran as saying, as she requested the acting mayor, Marco Parra, defer any major decisions in city investments or policy to her administration.  She was referring in particular to the approval of transportation projects that will connect Lima's downtown with the capital's neighbouring port city of Callao, known as the Yellow Line, in addition to a road to connect the city's northern, eastern and southern districts, called the Blue Line.