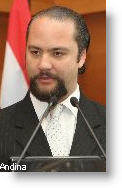 Peru has formally asked Russia to start negotiations for a free trade agreement, according to deputy minister of Trade, Carlos Posada.
Peruvian authorities have already met with their counterparts in Russia, and hope that talks may begin in the next few months, daily Peru.21 reported. 
Peru currently exports fresh produce, including table grapes, and believes there is a market in Russia for a larger variety of Peruvian agroindustrial products.
A similar approach has already been made with Indonesia. Posada said that Peru is hoping to begin negotiations for a trade pact with authorities in Jakarta.
The announcement follows criticism that President Ollanta Humala's administration is not doing enough to open up new markets for Peruvian businesses since Humala took office in July 2011.
Peru already has a number of free trade agreements, including with its biggest trade partners China and the United States.
A free trade agreement with the European Union came into force on Friday. Peru also has trade pacts with Canada, Chile, Australia and Japan, among others.