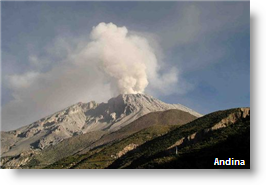 Civil Defense experts have begun to recommend the evacuation of  some 200 villagers from Querapi, following the seventh explosion of ash four kilometers away at the Ubinas volcano in southern Peru.
Peru's Institute of Geology, Mining and Metallurgy (Ingemmet) had reported a fifth eruption of ash on Tuesday, causing alarm in nearby communities, daily Peru.21 reported. The explosion on Tuesday was not as strong as others earlier this week, Peru's Civil Defense said. There were two explosions on Sunday, followed by one on Monday and two on Tuesday.
According to Ingemmet reports, the heavy snowfalls in the area have caused the spewing of ash from the volcano, although it has already been active for some time.  The last eruptions of ash occurred in 2009.
The volcano is located in the Moquegua region, and about 70 kilometers from the city of Arequipa.
The ash has also begun to affect the communities of Casablanca, Patazo, Kerala and Cancosani.  "At any moment, the direction of the winds could change and then not only these communities would be affected," said Civil Defense member Teodoro Perez.
The scientific team monitoring the volcano has suggested that the Moquegua regional government call a yellow alert and have its emergency contingency plan in place for immediate action if necessary.
However, the major danger is not from the lava but from the ashes, according to volcanologist Jerzy Mariño, of Ingemmet.
The ashes contaminate grazing pasture, streams and rivers and can cause respiratory and gastrointestinal ailments.
In contrast, because of the chemical composition of  the Andean volcanoes, these "produce viscose lava, which does not tend to move very far, and tends to dry rapidly.  At the most, it could reach the village of Querapi."