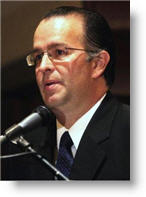 Peruvian exports are expected to continue to grow this year despite uncertainties surrounding the health of the global economy, according to Foreign Trade and Tourism minister, Jose Luis Silva.
In 2012, Peru's exports are forecast to total $49 billion, state news agency Andina reported Silva as saying.
The figure would represent a 7.8 percent increase over the Central Bank's forecast for Peru's 2011 exports of approximately $45 billion. In 2010, Peru's exports totaled $35.6 billion.
Silva said that Peru's exports are expected to increase thanks to new free trade agreements.
"In the short term, there are agreements with Panama, Mexico and Japan that are coming into force. The idea is that we can soon trade more products with these countries," Silva said.
Peru also has free trade accords with China, the United States and Canada, among other countries.