Less than a quarter of Peruvians are now living in poverty, according to the most recent government data on poverty in the Andean country.  Government statistics agency INEI said that the rate of poverty fell 1.9 percent in 2013 to 23.9 percent from 25.8 percent in 2012. Since 2009, Peru's poverty rate has fallen almost 10 percent, according to the figures.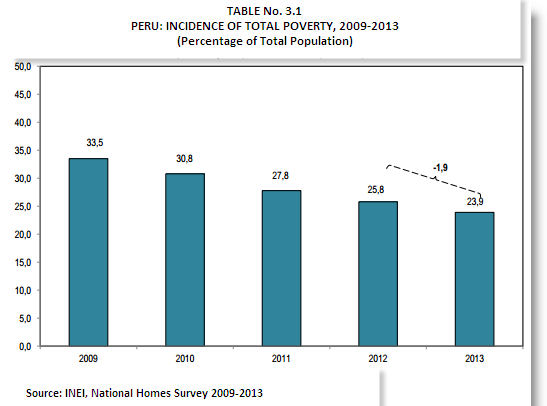 The INEI said that some 491,000 Peruvians escaped poverty in 2013. However, there are still close to 7.3 million people living in poverty.
The agency said that one of the most important factors that contributed to the decline is the increased spending power and earnings among individuals following years of strong economic growth.
The extreme rate of poverty fell from 6 percent in 2012 to 4.7 percent last year. The extreme poverty rate was 9.5 percent in 2009.
The region with the biggest decline in poverty was the south-central Andean department of Apurimac, which has traditionally been the poorest area in Peru. Its poverty rate fell 12.7 percent to 42.8 percent in 2013. With the improvement in Apurimac, the region that now holds that spot is the north Andean region of Cajamarca (52.9 percent poverty).   Following close behind Cajamarca are the regions of Ayacucho and Amazonas.
According to Alejandro Vilchez, head of INEI, poverty in these regions is the result of lower production of services and mining.
At the other end of the scale, as the regions with the least poverty, are Tacna (11.8 percent), Arequipa (9.1 percent), Moquegua (8.7 percent), Ica (4.7%) and Madre de Dios with 3.8 percent.   Tacna, Arequipa and Moquegua are active in industry and mining, while Ica enjoys almost zero unemployment due to the boom of agribusiness, and Madre de Dios' income is almost certainly due to the illegal gold mining industry
There is still a large gap in Peru's poverty rate between rural areas and urban centers, although rural poverty is now declining at a faster pace.
In rural areas, the poverty rate in 2013 fell 5 percent to 48 percent, while in urban centers it was down slightly to 16.1 percent. In 2009, the rural poverty rate was 66.7 percent, while the urban rate was 21.3 percent.