Peru' Supreme Court, in a decision made public Jan.3, has turned down the appeal made by ex-President Fujimori's attorney to annul the conviction and 25-year prison sentence handed down April 7, 2009 by a special criminal court.
The decision dampens any hopes for a pardon sometime in the future on the grounds of ill health or age. According to Law 28760 enacted in 2006, a presidential pardon or amnesty cannot be granted to those convicted of kidnapping.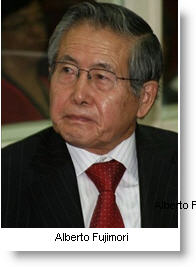 Fujimori, 71, was convicted in April of the crimes of voluntary manslaughter, serious injury and aggravated kidnapping that covered four different events in 1991 and 1992.
The crimes are the shooting to death of 15 people in a Barrios Altos tenement in 1991 and the serious injury of another four people at the same location;  the torture and murder of nine students and a university professor from La Cantuta in 1992, and the destruction and disappearance of their bodies in sand dunes outside Lima; and the kidnapping of journalist Gustavo Gorriti and of businessman Samuel Dyer during the so-called auto-coup in April 1992, when both men were held in the basement of the Army Intelligence unit.
Although the murders were committed by a paramilitary squad, the Colina group, the Supreme Court ratified the Special Criminal Court's verdict that there was no doubt President Fujimori knew and authorized its operations under Vladmiro Montesinos.
By unanimous vote, the Supreme Court upheld the conviction of murder and the 25-year sentence, and with a majority vote ratified the kidnapping charges – Justice Julio Enrique Biaggi added a comment dissenting on the charges of aggravated kidnapping as opposed to simple kidnapping but upheld the fines and damages.
Fujimori's attorney, Cesar Nakasaki, said "We will continue to fight for the annulment" of the sentence and if necessary would take the case to the Constitutional Court.  Fujimori's daughter, Congresswoman Keiko Fujimori, said they would present a writ of habeus corpus to the Court.
The president of the Constitutional Court, JuanVergara, said today that a Supreme Court decision cannot be changed by his court.
The length of Fujimori's term in prison includes the time spent in custody and under house arrest in Chile in 2005 until his extradition to Peru in 2006.  He is to serve the sentence until Feb.10, 2032.  Although a pardon is not permitted, after he has served three quarters of the sentence, 19 years, he would be allowed to work towards shortening the remaining part of the sentence, although for a kidnapping sentence, it is seven days' work for one day off the sentence.
At present, Fujimori is being held in the special operations unit of the National Police in north Lima.