A Peruvian court in Lima began the trial on Thursday against 29 former soldiers for their alleged role in the 1985 Accomarca massacre of 69 Indian peasants in Peru's southern Andes. 
Prosecutor Luis Landa is seeking a 25 year sentence for the accused, in addition to a fine of 14 million soles ($5.02 m), Radioprogramas reported.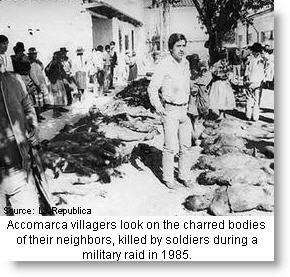 The massacre occurred in the village of Accomarca, located 240 miles southeast of Lima in Peru's Ayacucho department. Many of the men were tortured with cactus needles and the women raped before being killed. Once the villagers had been seized and placed in one building, the soldiers threw hand grenades into the building and then burned it.
Earlier, the young men had fled the village, which the military suspected of cooperating with the Maoist-inspired Shining Path insurgency during its brutal campaign to overthrow the government and install a communist state. The Accomarca raid was part of a larger military operation in the area to rout out Shining Path suspects. 
Among the accused is Telmo Hurtado, an army major known as the "Butcher of the Andes," who led one of the Peruvian army units that machine-gunned children, elderly men and women on August 14 1985,  just a month into President Alan Garcia's first administration. 
The trial began this week without the presence of Hurtado – an attendee of the notorious U.S. Army School of the Americas in 1981-82 – who is currently in the process of being deported from the U.S., where he had fled seeking refuge from human rights trials.  Hurtado had been convicted in 1993 by the military justice system but was released when President Fujimori granted amnesty to the military involved in human rights abuses during the struggle against the Shining Path.  When the amnesty was repealed in 2002, Hurtado fled to the U.S.
Memory Museum
Also on Thursday, President Garcia, now with less than a year left in his second administration, inaugurated construction of the Memory Museum. The museum is to honor the 70,000 people who died during the 20 years of political violence in Peru between the Shining Path and government security forces.
"Here they will meditate on how, in a moment, the destiny of the country changed," Garcia said. "It will be a temple for thought."