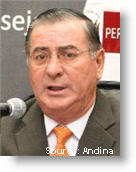 Prime Minister Oscar Valdes rejected Friday that Peru's Interior and Defense ministers could be removed from their posts for their handling of a conflict with Shining Path remnants in the coca-growing Apurimac and Ene river valleys, or VRAE.
Valdes said that removing Defense Minister Alberto Otarola or Interior Minister Daniel Lozada would not be favorable for the government, daily El Comercio reported.
Valdes' comments come as a number of lawmakers are calling for the ministers to resign following recent events in the VRAE that show the state has practically no control over the area.
Javier Diez Canseco, a prominent leftist legislator and member of President Ollanta Humala's ruling Gana Peru alliance, supports the removal of the ministers. He said during an interview with Ideeleradio that he may leave the party if the ministers are not fired.
In April, Shining Path rebels kidnapped 36 natural gas workers in the province of La Convencion, in Cuzco region. The incident was the first major kidnapping by the Shining Path remnants since 2003, when they took some 70 workers from an Argentine company working in the natural gas industry.
The workers were released six days after being snatched, allegedly after the gas contract companies paid a ransom. However, and although the military and police operation was not directly involved in the release, a number of the law enforcement personnel were killed in operations aimed at rescuing the hostages.
Two police also went missing during the operation. One of them —Luis Astuquillca— walked out of the jungle, injured, some 17 days after going missing, while the body of another —Cesar Vilca— was retrieved by his father who traveled to the zone with the help of local indigenous guides.
These incidents are seen as a major embarrassment to the government — particularly since President Humala was quick to declare the joint military police operation as impeccable in the release of the hostages —and highlights the state's lack of a coherent plan for the area and its inability to gain control over swaths of Peruvian territory.