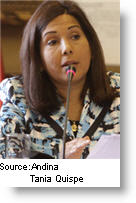 The head of Peru's tax agency Sunat, Tania Quispe, said the government plans to establish by June mechanisms to halt the supply of chemical inputs and machinery that are used by illegal gold miners, state news agency Andina reported.
"We are talking about May or June at the latest," Quispe said. "We plan to pull out all the stops in the  regulation process."
Quispe said that Sunat, which also governs the customs superintendency Sunad, plays an important role in the government's efforts to stem illegal mining by detecting tax evasion and money laundering.
"And now with the fiscal routes, we are going to have checkpoints established to monitor all of this," she said.  Sunat will be monitoring the sale of chemical inputs, and also light and heavy machinery as well as vehicles and other supplies, by following the trail of sales receipts and other transaction documents between suppliers and buyers.  
Illegal and informal mining operations are being carried out throughout Peru, and it has become a major social and environmental concern, particularly in the jungle region of Madre de Dios.
Tens of thousands of informal miners are believed to extract gold in Madre de Dios, causing widespread deforestation and heavily polluting local waterways in one of the world's most bio-diverse areas.
Authorities say that prostitution, including child prostitution, and human trafficking are also prevalent in illegal mining camps.
Efforts by the government to control illegal mining in the Madre de Dios area have been met by stiff opposition leading to deadly protests.