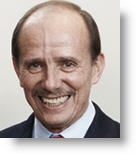 The Forbes annual list of billionaires included 10 Peruvians this year, with the chief executive of Peruvian beauty product maker Belcorp, Eduardo Belmont, at the top of the list of the richest from the South American nation.
According to Forbes, Belmont was listed as the 195th wealthiest individual in the world, with a fortune worth $6.1 billion.
Belcorp, which produces the up-market Ebel brand, was created in 1988 after Belmont left his brother's business, Yanbal, which also produces beauty products, according to daily El Comercio.  Both companies use direct or door-to-door sales systems with brochures. Belcorp operates in 15 countries in Latin America and the United States. Forbes estimates that it has annual sales of $2 billion.
Belmont and his brother, Juan Fernando, are known to have a troubled relationship and hardly ever talk. Fernando, the president of Yanbal, was listed by Forbes with a fortune of $2.2 billion.
Other prominent Peruvian businessmen who made the list include Carlos Rodriguez-Pastor, the head of Intercorp Financial Services, with an estimated fortune of $3.4 billion, up from $2.0 billion in the previous year.
Intercorp has profited from Peru's expanding middle class. The company owns Interbank, the fourth largest bank in Peru, and through InRetail also owns the supermarket chain Plaza Vea, and its upscale Vivanda stores, the Cineplex chain, and the Real Plaza chain of malls, among other businesses.
Eduardo Hochschild, head of Peruvian mining company Hochschild, was listed with a fortune of $2.1 billion, slightly less than the previous year, partially due to a decline in silver prices that have affected the shares of the miner.
New Peruvian billionaires include Alberto Benavides de la Quintana, the patriarch of the Benavides family, the biggest shareholder of mining company Buenaventura. Benavides, who founded Buenaventura and developed it into Peru's biggest precious metals miner, has a fortune of approximately $2 billion. Roque Benavides, the son of Alberto, is the chief executive of Buenaventura.
Mario Brescia, the 84-year-old head of the Brescia Group, is seen with a worth of $1.8 billion. The Brescia group has businesses in the fishing sector, mining sector, as well as the hotel, health (Clinica Internacional) and financial sectors (BBVA Banco Continental).
 The Brescia sisters, Ana Maria and Rosa, both are seen with a fortune of $1.35 billion each. The women each own 30 percent of the Brescia Group.
Vito and Jorge Rodriguez, the heads of dairy producer Grupo Gloria, have a fortune of $1.6 billion and $1.4 billion, respectively, according to Forbes.