Presidential candidate Alejandro Toledo has denied any connection to alleged drug trafficker and money launderer Manuel Sanchez Paredes. In a press conference on the campaign trail in Iñapari, Madre de Dios, Toledo angrily rejected the suggestions of such a connection and questioned the provenance and motives of the allegation, stemming from a photograph taken in 2006.
"Has Alan Garcia got together with J.J. Rendon to work for the Castañeda's candidacy? Where did the photo come from? Who produced it?," Toledo asked, noting rumours that Venezuelan publicist J. J. Rendon, known for managing dirty presidential campaigns for several Latin American presidents, may be hired to handle the campaign for Luis Castañeda, said to be favored by President Garcia.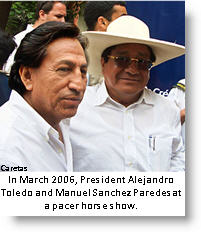 Earlier, Congressman Carlos Bruce, the Peru Posible campaign chief and also Toledo's first vice presidential running mate, said a picture published Thursday in weekly Caretas was taken during an official event in March 2006 organized by the Peruvian Association of Paso Horses, daily Correo reported.
The picture was taken four months before the end of Toledo's first administration and when the money laundering and drug trafficking allegations against the Sanchez Paredes family were already well known.
"He shook hands without even knowing who they were," Bruce said. "In his five years of government, Toledo has never been accused of ties with drug traffickers."
"I was invited by the president of the (pacer horse) association, Rafael Puga. I was not received by anyone named Manuel Sanchez Paredes, as the (Caretas) article says. I did not have lunch with Mr. Sanchez Paredes, who was among hundreds of people," Toledo said in his press conference.
The photo of Toledo and Sanchez Paredes surfaced last week after Toledo proposed de-penalizing drugs as part of his current presidential campaign. His remarks sparked a series of comments from other candidates, including demands from Keiko Fujimori, Luis Castañeda and politics editor Juan Paredes of daily El Comercio that he submit to a hair to test to prove he is not taking drugs himself.
According to Caretas, Manuel Sanchez Paredes has had close ties with many Peruvian political parties. He was previously the mayor of Moyobamba district in the northern La Libertad department for the conservative PPC party, which is led by former presidential candidate Lourdes Flores and is now part of an alliance that is supporting the presidential campaign of Pedro Pablo Kuczynski, Peru's former prime minister.
Local media in northern Peru have also speculated, without providing proof, that Sanchez Paredes has had close ties to President Alan Garcia's ruling Aprista party. APRA's base is in Trujillo, the capital of La Libertad.
There were also allegations of links between the Sanchez Paredes family and Garcia's presidential secretary Luis Nava.
Sanchez Paredes gunfights
Meanwhile, the Sanchez Paredes family made separate news on Friday after a deadly gunfight in the south coast city of Ica erupted between security guards of family members feuding over control of a gold mine.
According to daily El Comercio, the feud is over control over the San Simon gold mine in La Libertad and includes on the one hand Manuel Sanchez Paredes and on the other five of his six children – Carlos Alberto, Manuel Andres, Fidel Ernesto, Simon Agapito and Lola Rosemary.
The feud began in early 2010 when the children asked for a greater share in San Simon's profits from the previous year. In response, Manuel Sanchez changed the board members and managers of the company, positions which were held by his children.
Last October, the children filed a preventative measure in the courts and on January 24 they were given and retook control of the mine in a violent confrontation that resulted in 250 police officers intervening. A week later, the children assumed control of the administrative offices in Lima.
Manuel Sanchez Paredes' lawyers submitted other requests in the Ica court to overturn the ruling in favor of his children.
The lawyers had recently received threats and were reportedly attacked by approximately seven people, allegedly linked to the Sanchez Paredes' children, who pulled up in two trucks to the restaurant where they were eating, in front of the Superior Court of Justice in Ica.   A gunfight between the lawyers' security and the group broke out and left at least two people dead and two more injured.
The family has been accused of using their businesses to launder decades-old profits from the drug trade.