Turkey's ambassador to Peru, Namik Güner Erpul, announced Friday that his country is seeking a free trade agreement with Peru, as well as other bilateral agreements, state news agency Andina reported.
Güner Erpul said Turkey is interested in improving ties with Peru, adding that they could be an entry point for Peru into markets in the Middle East, the Balkans and Central Asia.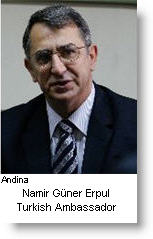 "Peru is going to be a star in the next 20 years following the path to Europe," said Güner Erpul, who is Turkey's first accredited ambassador in Lima. "The country has large opportunities and a big future."
"We have established the first contacts with the Peruvian government for a FTA and we also had a round of conversations last year," he said. "But the Peruvian party is still not ready to negotiate because it only has one negotiating team and it has been very busy with deals with other countries. So we are waiting our turn."
Güner Erpul said he believes a bilateral trade pact between Turkey and Peru could be completed fairly quickly because Turkey has applied to enter the European Union and now that Peru has reached a trade accord with the EU, one with Turkey would be based on similar conditions.
President Alan García's administration is an ardent supporter of free trade. Besides the EU, Peru already has a trade agreement with its largest commercial partners, the United States and China.
Peru has also signed trade pacts with Canada, Chile, Singapore and Thailand, and is hoping to close trade discussions with Japan and South Korea.