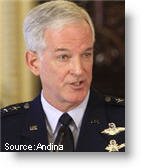 The United States and Peru are to coordinate a joint effort to tackle transnational crime, the head of the U.S. Southern Command said in Lima on Tuesday.
General Douglas Fraser met with President Ollanta Humala at government palace to discuss bilateral issues of defense and security. Also at the meeting were the ministers of Defense, Daniel Mora, and Interior, Oscar Valdes, and the head of the Joint Chiefs of Staff, General Luis Howell. 
"I was able to talk with the president about how we can support each other in the fight against organized crime," Radio Programas Peru reported Fraser as saying.
He said that the U.S. and Peru will continue to enjoy solid relations and work together to combat "all threats" from international crime.
In terms of organized crime, the U.S.'s main interest in Peru is the production of cocaine. Peru is the world's biggest coca leaf producer, the main ingredient in the cocaine that is smuggled into the U.S., Europe and other countries.
Peru's biggest coca growing region is the Apurimac and Ene river valley, known as the VRAE. Fraser said he was able to visit the VRAE, located in Peru's central jungle region, to get a better grasp of the problems facing Peru.
Humala, who took office on July 28, has pledged to continue government work to eradicate coca crops, although his administration was criticized earlier for temporarily halting the activity.   Authorities and some analysts said this was necessary to reevaluate the government's anti-drug policy since eradication efforts over the past 10 years have not managed to reduce the production.