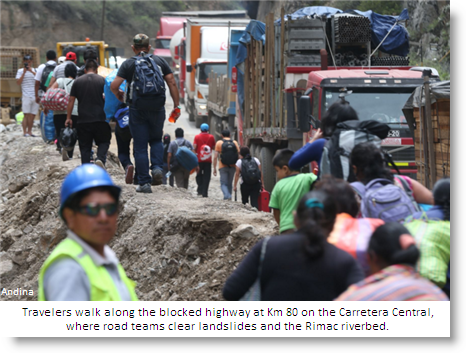 Sections of the Central Highway have begun to be opened between Lima and La Oroya, as work continues to clear the damage to the road and the railroad track caused by flash floods and landslides along more than 120 kilometers of the highway between Matucana and the La Oroya mining town.
Trucks daring to cross the rushing waters have got stuck in the riverbed, bumper-to-bumper lines of buses and vehicles carrying fresh produce have been forced to sit and to wait for days, while backhoes and bulldozers clear the mud and rocks along several key points in the valley.
The Ministry of Transport urged vehicles to use the five alternative routes north and south of Lima, and continues to publish updates on the road conditions on the Sutran website.
The Air Force has so far airlifted more than 1000 people between Lima and Jauja this past week, including some 20 medical emergencies.
According to the exporters association, Adex, the blocked highway is causing a loss in export income of some $6 million a day — delaying shipments of mostly minerals (copper, zinc, lead) and coffee that are brought by rail and road from Huanuco, Pasco, Junin and Huancavelica to the port of Callao.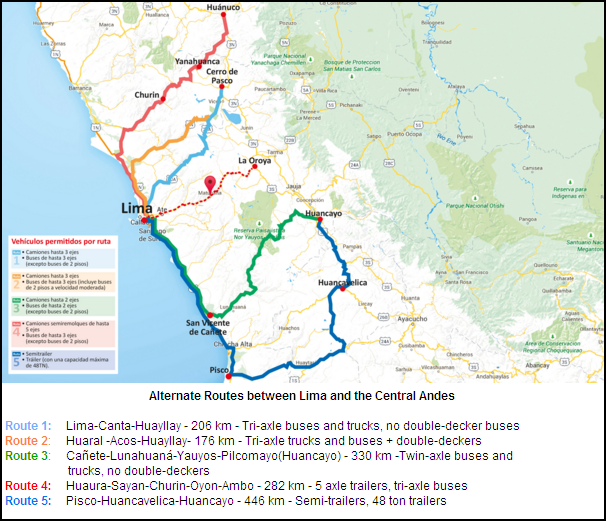 Eduardo Amorrortu, president of Adex, is calling on the government to prevent this situation —an annual occurrence, although more severe this year due to the Niño weather phenomenon— by building an airport at Jauja and building the Transandean Tunnel, a major project on the drawing board that would cut through the mountains between Lima and Huancayo, not only for transport but for a new water source for Lima's population of more than 10 million.
Lima's regional governor, Nelson Chui, told Canal N TV that emergency plans for the El Niño weather phenomenon this year did not include sufficient funds for more areas outside Metropolitan Lima, and that he had been advised to focus on the northern valleys of Barranca, Huaura, and Huaral as well as Cañete, rather than the Rimac.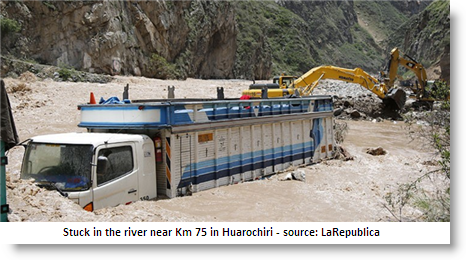 Floods and landslides are an annual event, however, along the narrow and steep Rimac Valley, and this year the risk is higher because of the increased rains in the central Huarochiri area because of El Niño.
In prehispanic times, the Rimac Valley was not considered a major route and was never used during the rains season by the Incas and their predecessors, who used the routes that we now consider "alternative."