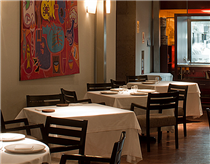 Lima's Astrid & Gaston restaurant, owned by chefs Gaston Acurio and his wife Astrid Gutsche, was named the top restaurant in Latin America by the UK-based William Reed Business Media.
The award was celebrated in Peru, which prides itself on its eclectic cuisine that mixes coastal, Andean and Amazonian ingredients with global influences from Spanish, African, Asian and Italian immigrants.
In announcing the award, the group said that Astrid & Gaston's "character, native dishes and brilliant execution combine to create an all-conquering phenomenon."
"[T]his Miraflores original – opened in 1994 and slated to relocate to new premises in 2014 – remains [Acurio's] signature eatery, epitomising not just his Peruvian-Mediterranean style but also his own character," it said.
The restaurant's chef is now Diego Muñoz, who continues to work closely with Acurio.
The Latin America's Best Restaurants awards ceremony, which was held in Lima, was a big acknowledgment for Peruvian cuisine in general and Lima's restaurant scene in particular.
The award comes just as the 10-day Mistura Gastronomy Fair —created in 2008 by Gaston Acurio—opens on Lima's Costa Verde beach.  The purpose of the fair, an immensely successful event since its first opening, and organized by the non-profit Peruvian Gastronomy Association, Apega, is to open the world of haute cuisine to the general public and to promote selected lesser-known restaurants and, more importantly, small-hold farmers from all over Peru who produce the ingredients that have made Peruvian cuisine famous. Apega provides full transport of the produce and facilities to the farmers to ensure their participation.
Besides Astrid & Gaston, two other Peruvian restaurants have ranked in the top 10 of the William Reed ranking — Virgilio Martinez's Central Restaurant (ranked 4th) and Pedro Miguel Schiaffino's Malabar (7th)— followed by Mitsuharu Tsumura's Maido (11th), Rafael Osterling's Rafael (13th), Hector Solis' Fiesta (14th), and La Mar (15th), another Gaston Acurio restaurant.
The Latin American restaurants that took second and third place were D.O.M. in Brazil and Pujol in Mexico.  For the full list of Latin America's Top 50 restaurants, click here.