By Gary Ziegler ✐
The first rays of morning sunlight illuminate the great stone altar, streaming through a square opening over my head. "Inti camac sumac," chants the priest. Soaked in sweat, I fight the bindings holding me to the stone as the grinning, looming, scarlet-cloaked figure slowly brings down a gleaming, bloodstained bronze knife toward my heaving chest.
"Jefe, buenos dias — café?"
Startled suddenly awake, I thankfully greet a smiling Pancho, our camp cook, handing a cup of wake-up coffee through the tent door. Whew — I make a silent oath to myself to avoid the second round of piscos that we had passed around the campfire last night.
We are on our way back to the mysterious and magnificent mountain Inca city in the remote cloud-forested Andes of Peru that has been the focus of my research and explorations for many years and numerous expeditions.
I am traveling with an interesting group of ethno-botanists. Our objective is to identify plants and trees that may have been introduced by the Inca residents and may still live on in the tangled vegetation surrounding the recently cleared stone walls and buildings.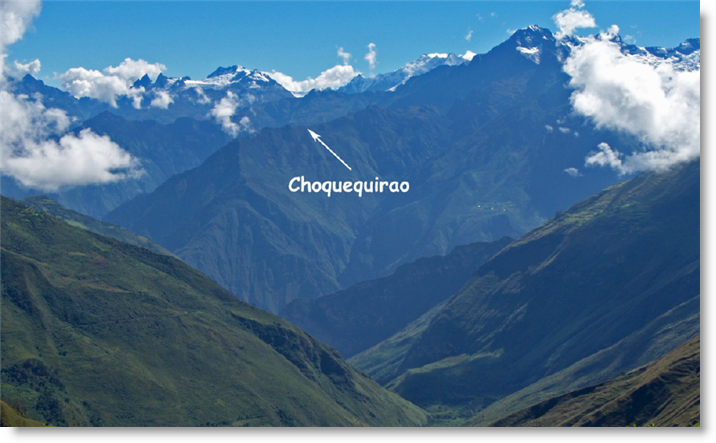 There is always something more to learn at the Inca's second Machu Picchu.
The Inca royal estate and ceremonial complex, Choquequirao is perched majestically at 9,800 feet of elevation on the cloud-forested ridge of a glaciated 17,700 foot peak.
The traditionally sacred Apurimac River, reportedly the longest headwater source of the Amazon, roars through a deep canyon some 5000 feet below. The site lies 61 miles west of Cusco in the rugged, remote Vilcabamba range of the Peruvian Andes, far distant from roads, trains and the tourist hordes that mob Choquequirao's famous sister estate, Machu Picchu.
Choquequirao remains one of the great, rewarding travel destinations of the Americas that still retain some of the excitement and discovery experience of the past.
It is a truly 'lost city,' abandoned sometime around 1572 when the holdout last Inca ruler, Tupac Amaru was captured in the distant jungles, dragged back to Cusco and executed by Spanish colonial authorities. The ancient houses, temples, canals and walls were soon reclaimed by the silent, green, primeval forest only to be rediscovered and revealed in recent times. Located on the far, unpopulated and geographically hostile side of the immense Apurimac Canyon, the region remained disconnected from the farms, villages and roads of developing Peru.
It is little known that Yale professor Hiram Bingham, the now famous scientific discoverer of Machu Picchu in 1911 was inspired to launch his return to Peru and archaeological explorations after a visit to Choquequirao in 1909. Bingham visited Choquequirao twice, the second time with a crew of surveyors, cartographers and specialists to produce the first map and scientific description.
During the early 1990s, the Peruvian government took interest, beginning a careful archaeological and restoration project that continues today. In 1995, a new trail and foot bridge crossing the Apurimac was completed, giving more access to adventurous travelers and pack-horse-supported small tour groups, contributing to the income and employment of enterprising local families.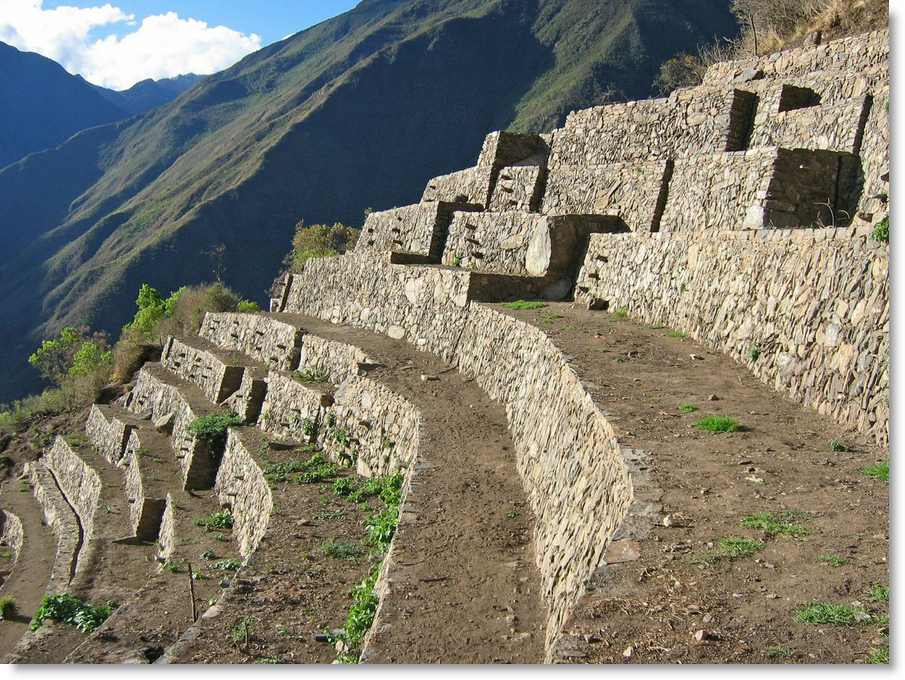 The previous year I had arrived for the first time with a filming expedition, reopening the long, multi-day trail across the rugged highlands from Machu Picchu with picks, shovels and machetes.
Now twenty years later, I am returning yet again to contemplate Choquequirao's mysteries and matchless beauty, trekking in by the shorter, two-day route from the road head near the community of Cachora. University of Colorado archeoastronomer, Kim Malville and I recently published my life's work in the Andes and our studies together of Choquequirao, in a new book entitled "Machu Picchu's Sacred Sisters, Choquequirao and Llactapata."  The book focuses on similarities with Machu Picchu, concluding that Choquequirao was modeled and geocosmically located after its older ceremonial sister.
We describe our collective findings and contributions of colleagues in detail with a few adventures thrown in from journals as well. The chapters cover main and outlying groups, architectural features, construction techniques, probable usage, function, and how the Inca design incorporates Andean astronomy and the sacred landscape. In brief, we suggest that Choquequirao was designed and constructed during the reign of the Inca, Topa Yupanki, sometime in the late fifteenth century, modeled after his father, Pachachuti's estate, Machu Picchu.
Topa Inca had Choquequirao built as his own Machu Picchu.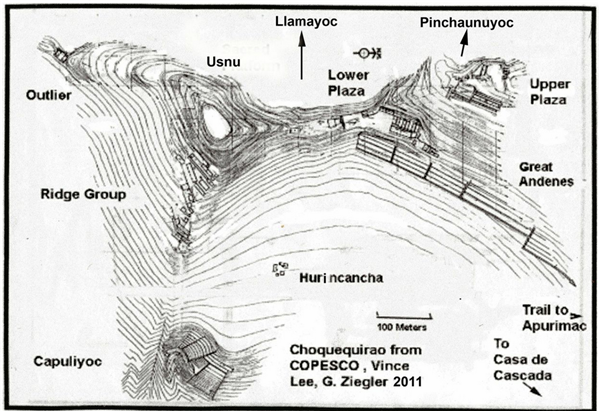 Experience from field investigations indicates Inca monumental sites were carefully planned and designed according to astronomical alignments, precisely placed in relationship to sacred rivers, mountains, and celestial phenomena.
Choquequirao fits this view. It was uniquely located at a convergence of sacred terrain features with celestial events most important to the Inca state religion and Andean tradition in particular, the June and December solstices.
Like Machu Picchu, important, high-status construction is centered on a ridge top with a higher mountain behind and a lower distinctive promontory in front, with a sacred river flowing below in view. Each hosts a series of fountains or baths passing through ridge top groups.
During the height of the Inca empire, 1450-1526, both Choquequirao and Machu Picchu would likely have served as a provincial administrative center. There is reasonable evidence that Machu Picchu and Choquequirao may have also provided a seasonal pilgrimage destination for regional state-sponsored ceremonial events.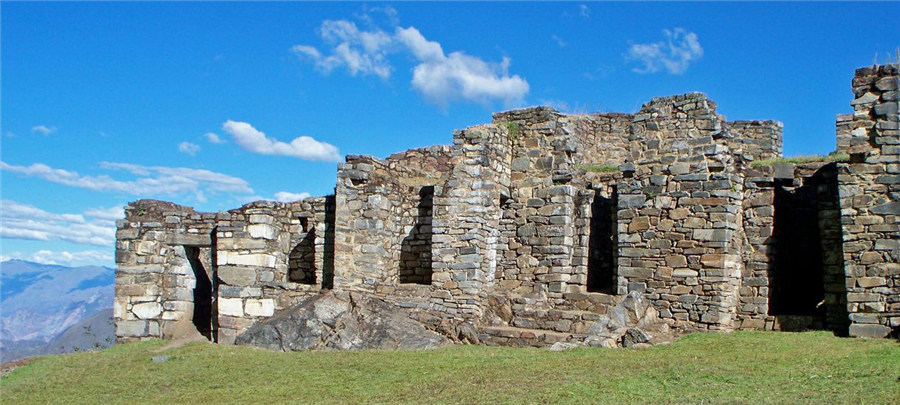 It is easy to envision a great procession of corn beer, chicha drinking pilgrims singing and chanting, conch shells blowing, melodic flutes forlornly playing, drums reverberating from the canyon walls as the outer gate is approached. Pots and cups are ritually broken and offerings, borne in for the mountain spirits, apus, are piled about as the ceremony starts, carefully choreographed by richly dressed attendant priests.
Evidence that coca was widely grown, coca store houses, llama pens and a unique llama train mural, support Choquequirao as an important coca growing and distribution center. Intensive cultivation, ongoing construction and maintenance would have required a large resident population. Remains of a large settlement of simple, round, wood dwellings contained by low stone walls is situated over an area of several square miles, above an outlying temple water shrine, Pinchaunuyoc. These would have housed the needed workers well away from privileged resident Inca administrators, attendants, and main group temples.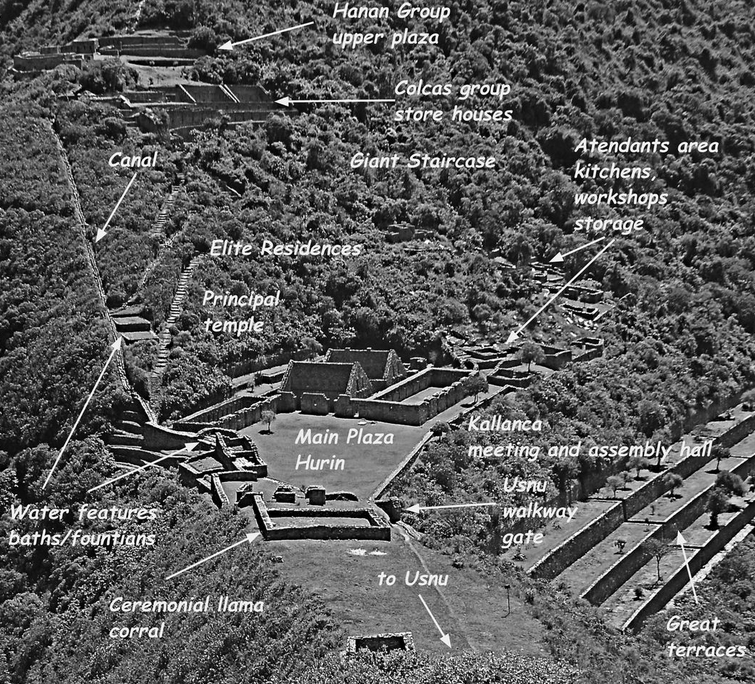 Visiting Choquequirao
Upon arrival at Choquequirao, one should allow several days to explore the site and visit the two most important outlying groups. Pinchaunuyoc, several miles away, requires several thousand feet of climbing down and back up for a round trip. The waterfall group, Casa de Cascada, uses up the better part of a day to visit and return.
Both are well worth the time.
One of the rewards of visiting Choquequirao is that it has remained well off the beaten path. Only a few hundred visit during the dry season as compared to more than two thousand daily at Machu Picchu. Arriving by the shortest route requires two days of strenuous hiking.
Descending into the deep Apurimac then back up some 4,500 feet to reach the site is like crossing Arizona's Grand Canyon.
One either carries a heavy backpack or hires local packers to bring the needed supplies with horses or mules. The best solution is to sign on with one of the Cusco-based trekking agencies that regularly take small groups of two to six there during the dry season months of April into December.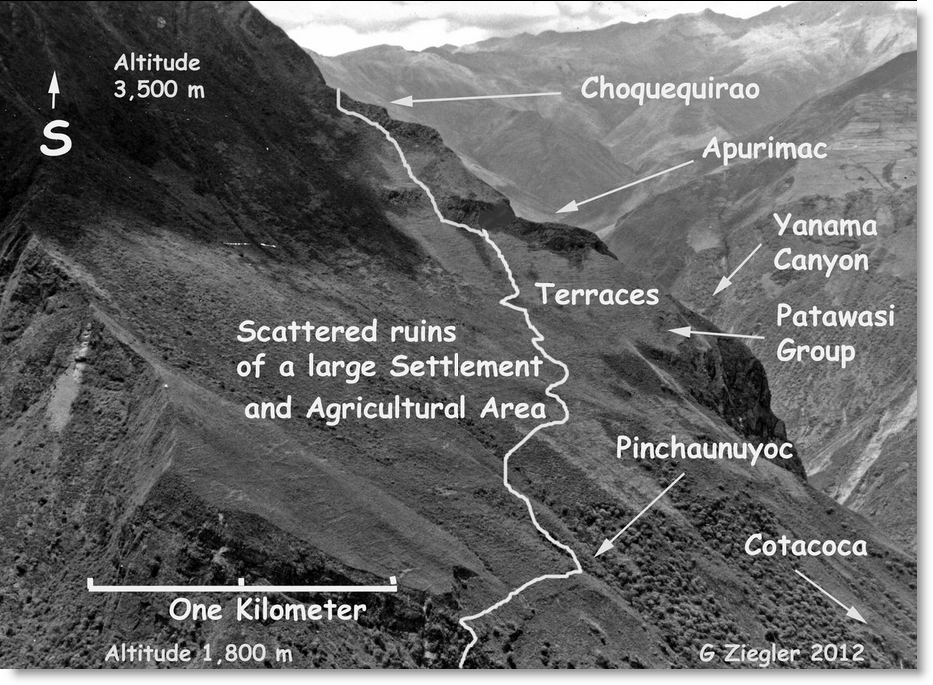 It is possible to ride a horse most of the way but good horses are hard to come by. Most of the local packer stock is not up to standards of safety and dependability nor well cared for. Some trekking agencies are marginal. A good test is the cost. If it seems really cheap, there is a reason. Carefully research and checking references before signing on is recommended.
An old Cusco friend and Inca expert, Edwin Dueñas, operates trips by horseback and foot with customized itineraries to Choquequirao and other sites for individuals and small groups out of Cusco. Edwin has worked with me as a field research associate for many years. We have led groups together on a number of occasions. I highly recommend contracting him as the best archaeological guide and outfitter available. www.adventurespecialists.org
The small community of Cachora sits in a lush, broad valley leading down to an immensely steep drop to the Apurimac River. Agriculture and travel in the valley goes back to pre-Inca times.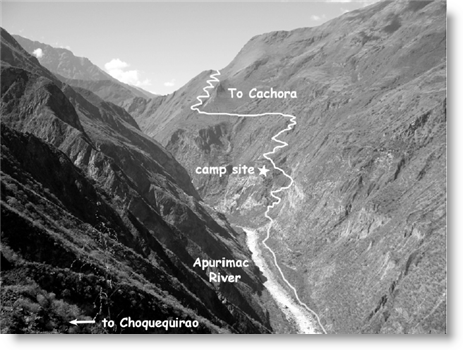 The present colonial-period community was established as a part of Hernando Pizarro's holdings or encomienda in the the mid-1500s. Life here was pretty much unchanged until the Maoist terrorist group, Sendero Luminoso, took violent control in the 1980s. Many villagers with training or education were rounded up and executed as a preliminary to establishing absolute control.
I heard these horror stories when visiting there just after government troops and national police evicted the Senderistas following the capture of Sendero leader Abimael Guzman in 1992. Work at Choquequirao and growing tourism has put the community back on track.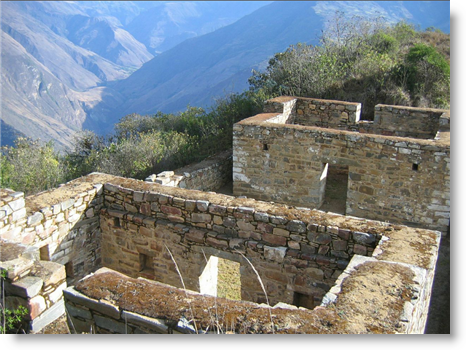 Traveling from Cusco, allow the better part of a day to arrive at Cachora. As of this writing, it takes five to six hours. The highway access regularly slides away with slow, repair-created detours and hosts increasingly heavy truck traffic. Some of the route has returned to pot holes and extreme dust. No solution has appeared to solve these delays. Highways can't be built to hold on steep, unstable, Andean mountain slopes.
Of course, the Inca knew this and carefully placed their foot and pack llama-travelled roads up, down and around where modern roads won't work.
The Cachora road turns off of the mostly-paved Central highway just past the Inca monument, Saihuite, to wind down several thousand feet to the community. There are a few small, rustic places to stay at with basic Andean food: chicken, soups and beer.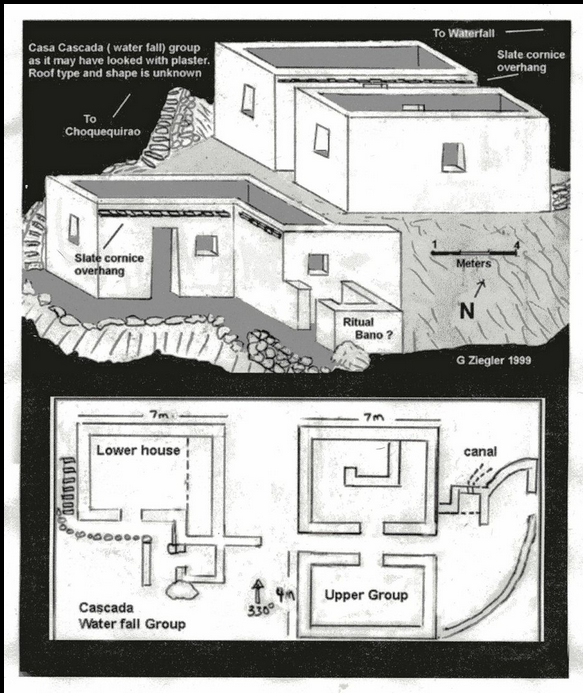 Although serious trekkers can reach the camp at Choquequirao in one horrendous, long day, two days is the reasonable norm. A minimum of six days should be allowed for a visit and round trip from Cachora. The usually well-maintained trail follows along the rim of the Apurimac canyon, with considerable up and downs before finally dropping steeply to the river and bridge. There are two suitable places to camp. The first is high up before the drop to the river. Someone has built a couple of shelters there, cold showers and piped in water. There are ample, flat places for tents.
Usually someone is there to sell beer or Inca Kola. The second camp is at the river. The government agency, COPESCO, built a structure for housing workers while building the bridge. As of this writing it has been renovated and is serviceable. There are plenty of tent sites and one can cool off in the river. It is hot at an altitude of around 5000 feet.
The vegetation looks like Sonoran Desert, cactus and thorny acacia trees. Small biting gnats lurk in ambush so bring repellant, long sleeves and a closable tent. The trail switch-backs steeply up after the bridge, climbing steadily until arriving at Choquequirao.
Several small farms, chacras, are passed along the way and higher up are small clusters of houses, fields and corrals. A campsite with water and a latrine has been built about an hour or so from the archaeological complex, where one can camp for a small fee.
Just before reaching the edge of the designated zone, the government INC, now renamed the Ministry of Culture, (MC), has placed a small toll booth where a fee is collected. As of our last visit, it was forty Soles which is probably justified by the new camping site with flush toilets and a cold water shower house. From the camp, it is easy to follow the pathways around the main groups which are marked by signs.
Carry Machu Picchu's Sacred Sisters with you to help identify the groups, structures and alignments of the various buildings, walls and features. Visiting the distant groups of Capullyoc, Hurincancha or the Casa de Cascada may require a guide. Allow most of a day for any of these. Llamayoc, the llama mural in stone, can be seen in an hour or two as it is close down from the Lower Plaza.
A walking tour of Topa Inca's estate: suggestions that may be helpful.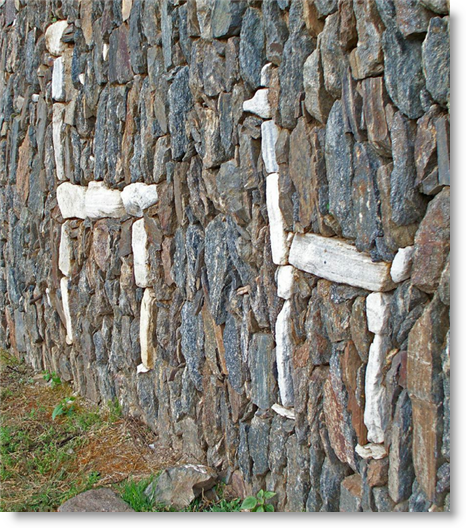 1) From the developed camping area follow a small path leaving from the shower house uphill to the main trail above. Turn left on the trail, following it southward. Within a few minutes, you are on the large, walled terraces. The trail continues until you reach the far end. It then turns right and upward a short distance to enter the main (Hurin) plaza. The plaza can be the central staging point for visiting all of the main groups.
2) Using the annotated photo diagram in the book, visit and examine the building groups and water features that surround the plaza.
3) Next, find a trail leaving from the northwest corner of the plaza climbing upward or north to the upper plaza group. There should be a sign in place. In any case, carry a compass to aid navigation and to observe alignments of the features as we described in the book.
4) Climb upward following the trail near the restored water canal several hundred feet to reach the upper, Hanan plaza and the collection of interesting buildings, fountain structures and temples that face a spectacular view of the deep Apurimac Canyon below.
5) Returning to the main plaza below, follow a different trail bearing off to the left or east side of the upper plaza, down through a group of large buildings that we identify as store houses, colcas. Find the December solstice-aligned, Giant Staircase just below the colcas. The trail continues down, passing by a group of crude structures that we believe were attendant and kitchen quarters, to again enter the main plaza.
6) From the main plaza, pass through the big double-jamb doorway on the left or east end of the curious multi-angle, Hurin temple forming the southern end of the plaza. Passing several low-walled structures, which probably were holding pens for llama related rituals, the path climbs several hundred feet up to reach the big flat topped hill we call the Usnu. Spend time here to admire the overwhelmingly powerful view of the surrounding Andes as did the Inca residents. This is a great place for photos when the never-certain Andean weather permits.
7) Continue over the Usnu hill southward following a path down the descending ridge crest. After passing several small platforms and walls, the trail ends at what Bingham named the "Outlier Group" now called the Casa de Sacerdotes (House of the Priests).
The view down the big canyon and surrounding ice peaks is, of course, awesome.
8) Returning back up the ridge, take a small trail branching off to the right or east just a bit above the Casa de Sacerdotes. This route leads through dense, cloud forest tangle around to an east-facing ridge running down from the Usnu hill which hosts the Ridge Group (Pika Wasi). From the uppermost group structures, find a good trail leading uphill back to the main plaza.
9) From the plaza, a sign marks an entranceway at the water feature group that is the start of a steeply descending trail to the Llama mural terraces (Llamayoc) some distance below (west).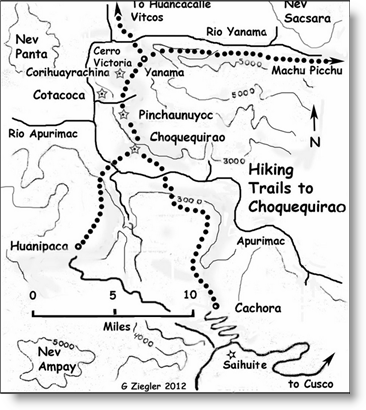 Allow ample time for this visit. It is a demanding climb back to the plaza.
This itinerary will require the better part of a day. A full additional day should be set aside to visit Pinchaunuyoc or the Casa de Cascada. The Hurincanca group has been reclaimed by dense vegetation so is sadly again lost. Finding and studying the site will require a good day and a crew with machetes. We do have the GPS location. Our 1999 diagram is in the book available for a future visit and study.
The Casa de Cascada is located some 1500 feet down-slope below the camping site. The trail is good but the start is not well indicated. If possible, ask one of the visiting group tour guides who may know, or one of the site workers if you speak a bit of Spanish. A trip to the hanging terraces, Capuliyoc, further along the same trail should be included on the same day.
The other satellite group associated directly with Choquequirao, Pinchaunuyoc is well worth a visit but is a few miles distant, involving a drop of several thousand feet on a very steep switchbacking trail. It is a favorite overnight stop on the long route to and from Machu Picchu. It should be done as an overnight trip from Choquequirao. Again, best to ask directions as suggested above.
A reality of trail travel in the steep Andes is that slides and floods frequently remove sections of trails. During May of 2011, a tremendous rock slide briefly blocked the Apurimac which backed up to destroy the bridge on the Choquequirao route from Cachora. It was just reopened in August of 2014.
Heading for Cusco — on the road again.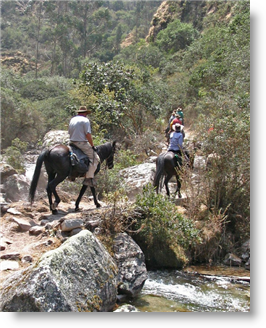 Anyway, the flora study completed, we are homeward bound. The day breaks bright and clear, despejado as we say in the equatorial Andes. After a brilliant Andean sunrise, our sunrise photographers return and camp is packed. All mount the rested, energized horses to trot cheerfully along good, near-level, trail traversing high above the roaring Apurimac River below. Later today, we must descend to the river and cross on a swaying cable-suspended box. Some seem to greet this expectation with limited enthusiasm.
Today's journey is comparable to a crossing of the Grand Canyon but by now all are fit, and comfortable with long descents and slow, steady climbs. We ride what we can but like me, some walked much of the way, particularly on steep difficult trail. Anyway, it is good to have a trusty, calm mount to hop on to when the need moves you. More, we carry no burdensome day packs or gear, which is stashed in the saddle bags traveling nearby when needed.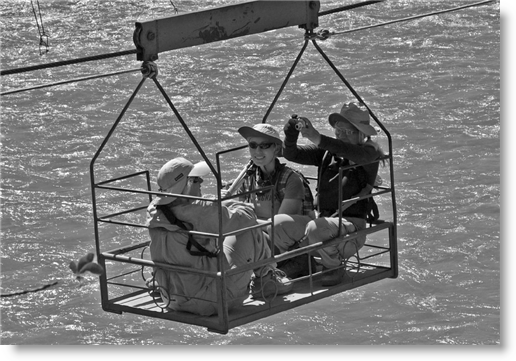 I travel light, wearing running shoes with legs protected for riding by leather gaiters called in the riding trade, half chaps. These serve well for hiking through brush and snake country as well. Several hours' travel downhill places us at the trail's end, bridge abutments with forlornly sagging cables and alas, no flooring. The bridge is gone. An immense rock slide had dammed up the Apurimac just downriver, creating a dam that backed up water to the bridge, destroying planking and lower supports.
Choquequirao was effectively closed except for hardy travelers coming and going by the long arduous route in and out via Yanama or by the swinging cable car. This reflects a millennium of hard life in the Andes. It has never been easy and the natural environment is cruel to the careless or unfortunate. Civilizations have come and gone here, even for the privileged.
We are happy to just cross the river on whatever means available. That means is an oroya, a long cable and a small box like contraption attached on pulleys with a pull rope to haul one across above the raging rapids. Our trusted horses and pack stock are necessarily left behind. New mounts, sturdy mules and saddle horses await us on the far bank if we successfully survive the cable crossing, which I can happily report we do.
We face bonding with a new wrangler crew and unknown new equines but, this is the stuff of adventure. All rise admirably to the occasion. We are soon sharing tales in a comfortable camp some distance up from the buggy river bottom on an ancient, pre-Inca, breezy plateau with running water and bottled beer, recently developed as a tourist encampment. They even have a flush toilet marginally in operation although several of us opt for the nearby woods. In any case, the local mosquitoes relish the opportunity for exposed bottoms.
Enough time in the wilds — "the bright lights of Cusco are shining like diamonds, like ten thousand jewels in the sky."
The next morning, we mount up or strike out walking. It is a mere four thousand feet uphill and ten miles to our awaiting transport near the village of Cachora. We get it done without mishap. Evening finds us enjoying a late meal in Cusco's favorite pub, noted British ornithologist Barry Walker's Cross Keys. It was a great, successful adventure…
Maybe I will have that second Pisco?
_____________________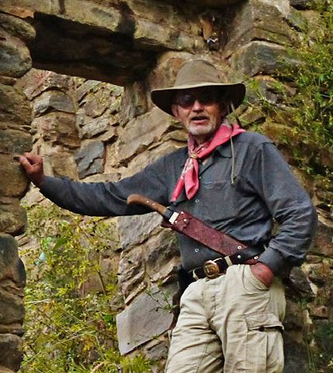 Gary Ziegler is a field archaeologist with a geology background, a mountaineer and explorer who has spent a lifetime finding and studying remote sites in the Vilcabamba range of Peru's southern Andes. He is a Fellow of the Royal Geographical Society and of the Explorers Club. He has featured in documentary films for the BBC, Discovery Channel, Science and History Channels. His work has been published in numerous professional journals, and he is co-author of "Machu Picchu's Sacred Sisters: Choquequirao and Llactapata." He has taught at Colorado College and Peru's national university, San Marcos. He was awarded the title "Distinguished Lecturer" at NASA's Marshal Space Center in 2013. His home base is the 4000-acre Bear Basin Ranch in the Sangre de Cristo mountains of southern Colorado. He can be contacted at: [email protected] and www.adventurespecialists.org
Photo credits: Thanks to Steve Bein, Ken Greenwood, Paolo Greer, Lillian Roberts and Hugh Thomson.
---
Join Gary's next horse-supported expedition to Choquequirao, departing from Cusco April 17 – 26, 2016. Click HERE for details.