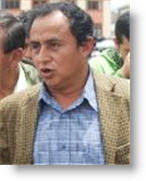 The regional president of Cajamarca, Gregorio Santos, criticized President Ollanta Humala's announcement Sunday evening of a 60-day state of emergency in four of Cajamarca's provinces in order to bring under control protests against a multi-billion dollar gold and copper project.
During an interview with Ideeleradio on Monday, Santos said that Peru's new government "is lying to the country, [when they say] that they are resolving conflicts. What they are doing is only drawing them out, cooling them and later it is going to cost the country a lot."
Santos, who was elected to office late last year and who supported Humala's campaign for president, said that talks with high-ranking government officials on Sunday failed to resolve the problem and only managed to calm the escalating conflict.
Santos has been leading the protests against gold producer Yanacocha's $4.8 billion, open pit Minas Conga project over concerns about its impact on water supplies. After days of increasingly violent protests, Yanacocha, majority owned by US-based giant Newmont, agreed to a request by the government to suspend the project.
However, protests continued with demonstrations calling for Conga's definitive cancellation and a stop to all new mining projects in Cajamarca. After talks failed Sunday —the regional leaders refused to meet the government's demand to call off the strike while talks would continue— Humala went on a nationwide television broadcast to announce a state of emergency, which suspends some constitutional rights such as freedom of assembly and permits the use of the military to normalize activities in the areas.
On Monday, Interior Minister Oscar Valdez said that activities were returning to normal with businesses and schools opening.
Santos called the state of emergency "a joke" and said that protest leaders were already working on normalizing activities. He said the measure has only magnified the situation and that if the state of emergency is lifted then protest leaders will be open to resuming talks with central government officials.
Conga was expected to start production in 2015. It is the country's biggest mining project. The major conflict is based on the need to drain four lakes, and re-channel the waters to man-made reservoirs, in order to develop the open pit mine.