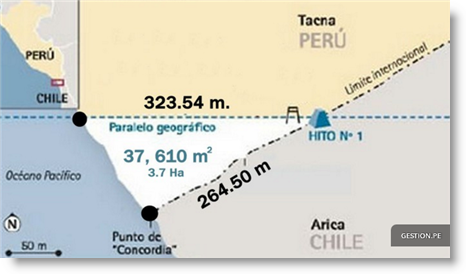 In the newest border disagreement with Chile, Peru has submitted a diplomatic note to the government in Santiago indicating that no Peruvian military approached the Boundary Marker 1 on Nov. 4.   Peru also highlighted the importance of strictly following the rules set out in 1994 on the surveillance and patrolling of the Peru-Chile border.
Peru's note is in response to protests by Chile against the creation in the Congress in Lima of a new district, LaYarada-Los Palos, in the Tacna region, on the southernmost border. The district lies within the triangle of territory regained by Peru in the 2014 ruling on the maritime border, handed down by the International Court of Justice at The Hague.
Chile has recalled its ambassador, Roberto Ibarra, for consultation, while its minister of Foreign Affairs, Heraldo Muñoz, has called on Peru to avoid "imprudent acts and unnecessary situations", vowing that Chile "will not be shy" in protecting its "territorial sovereignty."
Chile reports that Peruvian military approached to within 100 meters of the border to take photographs, without first advising their Chilean counterparts.  The armed forces of both countries agreed in 1978 that neither force would approach the common border without prior notice to the other.
Chile and Peru have different opinions on where the land border lies between both countries.  Chile bases its defense on Boundary Marker 1, with the boundary then running to the sea as a geographical line parallel to the Equator, whereas Peru argues that the boundary continues in the same direction from Marker 1 to the sea at the Punto de Concordia or point of concorde, which gives Peru an additional sliver of land that covers 3.7 hectares, or nine acres.
Despite growing business and government relations through private investment and Peru and Chile's membership in the Pacific Alliance, Unasur, Apex and now the Transpacific Trade agreement, both countries remain sensitive to possible overeach that stems back to the War of the Pacific in 1879, when Peru lost a sizeable chunk of its southern coast.
In February, both countries withdrew their ambassadors when Peru accused Chile of spying, by recruiting Naval NCOs to provide information. Chile denied any such action.