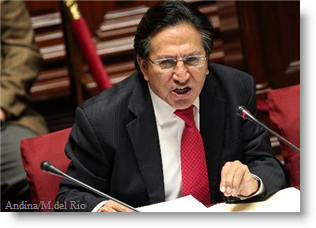 A congressional committee on Monday approved a report that calls for former President Alejandro Toledo to be charged with money laundering and unlawful association.
The report will have to be approved in Congress' full session before a charge is filed with Peru's judiciary, according to daily El Comercio.
The accusations of wrongdoing surround the purchase of expensive real-estate properties in Peru, made through two offshore companies, one located in Costa Rica called Ecoteva.
Previous reports said that Toledo's mother-in-law, Eva Fernenburg, a Belgian national, had set up the companies in order to purchase the properties.
Toledo's political opponents had been investigating the case, alleging that the former president used his mother-in-law to channel possible illicit gains made during his presidential term.
The report approved by the Congressional committee —nine votes in favor, three against the motion and three abstentions— said there were "reasonable indications" that Toledo was involved in setting up the offshore companies to be used for the real-estate purchases. It said, however, it could not prove the origin of the funds.
In the hearings and investigations before the report, the committee interviewed Toledo and also his wife, Eliane Karp, and several associates.
Toledo was President of Peru from 2001 to 2006. He led protests against jailed ex-President Alberto Fujimori's widely corrupt administration on a platform against corruption. During his administration there was never any serious question even from the opposition regarding his personal honesty, and the cabinet ministers he chose were by far among the best ministers the country has had in decades, but his personal failings and disorganization led to record-low ratings in the opinion polls.
Toledo has denied being involved in any wrongdoing. Toledo was reported saying Monday that, "Today, the revenge of my political enemies has won, not justice."
"I didn't expect anything less from my political enemies," Toledo said. "They haven't forgiven me for leading, along with millions of youth, women and men from all over Peru, the peaceful overthrow of a corrupt dictator — violator of human rights — and for defending the freedom of the press for the recovery of democracy in Peru."
Toledo ran again for President in 2011, but after a strong start in the campaign finished in fourth spot. He was expected to run in 2016, but the corruption allegations could hurt his chances at winning another term in office.