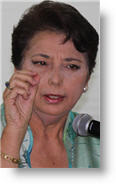 Beatriz Merino, a well-respected public figure in Peru, said Tuesday that the population should back President Ollanta Humala and criticized anti-mining protest leaders with political interests, daily El Comercio reported.
"I call for calm, for unity in the country, and not to take political advantage of social conflicts," Merino said, as tensions rise between opponents and those in favor of anti-mining protests both in the north and south of the Andean highlands.
Earlier this week, Cajamarca regional leader Gregorio Santos, leading the anti-mining protests, said he was willing to negotiate but then called for the ousting of  President Humala. He has since corrected his statements by saying he was calling for a constitutional assembly or referendum.
In reference to Humala, Merino said that it is now the moment to back public authorities. "He won the elections and he is going to govern for five years. We all have the obligation of backing him to lead the country in the best possible way," said Merino, a former cabinet chief and national ombudsman.
At the same time, however, she also called for the President to exert his leadership and strengthen democracy by bypassing protest leaders such as Gregorio Santos in Cajamarca  and going directly to the people, to listen to the communities and explain why certain decisions are made.
"To believe that conflict is bad is to not see the opportunity of changing society. Let's begin by realizing that the conflict resolution model we have leads us unfailingly to violence, which is precisely what we must avoid," she said.
"The government is repeating a conflict resolution model that doesn't work," Merino said, in reference to the government's hard line in negotiations and recent police actions, reminiscent of the failures of President Garcia's administration.
Humala has come under growing pressure from former left-wing allies since taking office. Following a cabinet shift in which several of the more progressive ministers were ousted, a number of his leftist advisers resigned from their government posts late last year, mainly over the government's handling of the protests against the large-scale Minas Conga gold project in northern Peru.
In the past week, three key legislators from his ruling Gana Peru party resigned following the government's handling of protests against the Xstrata copper mine in southern Peru.
Both Humala's former political allies and the lawmakers accuse the government of taking a hard line approach rather than emphasizing dialogue to resolve the social disputes, something that Humala said he would avoid during last year's presidential campaign that voted him into office.
More than 10 people have been killed during social conflicts in Peru since Humala took office 11 months ago.
Alvaro Vargas Llosa, the son of author Mario Vargas Llosa, said that Humala should make changes to his cabinet, and recommended Merino as a strong candidate to replace Premier Oscar Valdes.
"I think that it is time for a change in the cabinet," said Vargas Llosa, who supported Humala in the presidential campaign. "I think it is time to open up the game, call on independents, think of people who have a much more operational profile, from the political point of view, without leaving aside the technical aspects."