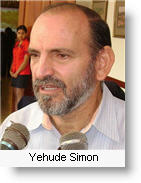 The incoming government of President-elect Ollanta Humala will need to provide more attention to central and southern Peru in order to reduce social conflicts, said former Prime Minister Yehude Simon.
Simon recommends Humala form a team aimed at preventing protests, state news agency Andina reported.
Over the past few months, social conflicts have led to numerous deaths and cost local economies millions.
In southern Puno region, at least five people were killed after weeks of protests by local residents demanding the cancellation of a silver project held by Canadian firm Bear Creek Mining. Reports estimate that the protests cost the local economy $117 million.
In Huancavelica, located in central-south Peru, protests erupted in June by students at a public university over concerns that funds for their institution would be affected by the development of the new Tayacaja University nearby. Congress had approved the new university, allotting some of the budget and infrastructure from the National University of Huancavelica.
Peru has seen social conflicts skyrocket during President Garcia's outgoing administration. In mid-2006, when Garcia assumed office, there were less than 100 social conflicts, while in May this year Peru's national ombudsman reported 227 conflicts, which have led to 88 deaths and a cost of $355 million in losses to the tourism sector.
The most serious conflict came in June 2009, during Simon's term as Garcia's prime minister, when after more than 12 months of  stonewalling by the government, indigenous protesters in the jungle province of Bagua clashed with soldiers and police on a remote highway.
The Bagua protesters were demanding, besides the right to prior consultation established by law, the repeal of several Executive decrees enacted in 2008 by Garcia to provide attractive investment conditions for the Free Trade Agreement signed with the United States. Twenty-four police officers and 10 civilians were killed in the protests.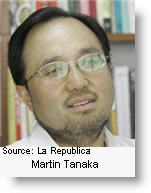 Political analyst Martin Tanaka said Humala needs to strengthen a government unit aimed at preventing, monitoring and resolving social conflicts.
"This issue is most important when making public policy decisions, considering the precariousness of the political actors, elected authorities and lack of continuity," Tanaka said.
Humala takes office for a five year-term on July 28. Many analysts agree that he will face high expectations to resolve demands from communities in rural areas, where he had strong support during the election.