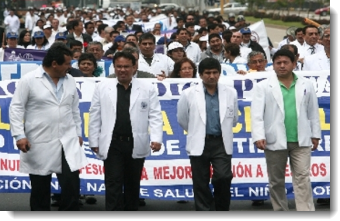 President Ollanta Humala on Monday called on protesting public-sector health workers to have "patience" over their demands for higher salaries, daily El Comercio reported.
Doctors and nurses working within the state health system have been on strike and protesting in Lima for several weeks, over demands for improved wages. Humala said that the government is committed to raising salaries.
"We are working on it, and we ask that they have a little patience but that in any case the government has the political will to resolve these problems," Humala said.
The striking doctors are one of several groups that took to the streets in downtown Lima leading up to Peru's July 28 national holiday, when Humala addressed the nation and Congress outlining his policies for the upcoming year.  Opposition lawmakers and the protesting medical professionals said that President Humala did not address the medical issue properly in his address.
Humala has faced a backlash from various groups in recent months and his popularity sank to a two-year low in July. The growing frustration with Humala is related to political decisions, namely security and defense, and a cooling economy, according to analysts.