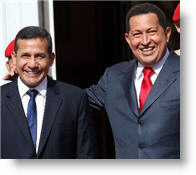 President Ollanta Humala sent a message to Venezuela on Tuesday expressing his "deepest sorrow" on the death of Hugo Chavez.
Chavez, a fiery left-wing populist, passed away on Tuesday after months of battling cancer. He was 58 years old.
"In the name of the Peruvian people and in the name of my family, of Nadine my wife, we want to express our condolences and deepest sorrow to the sister nation of Venezuela," Humala said.
"We'd also like to give the family of our friend Hugo Chavez a strong embrace, our Bolivarian, South American, and Latin American solidarity."
Humala said that he wishes for unity and reflection, and that politics in Venezuela may continue peacefully and democratically.
Like Chavez, Humala was also a former military officer. The Peruvian president looked to Chavez as a political ally during his 2006 presidential campaign, which was unsuccessful. Humala's party is also believed to have been financed strongly by Chavez. He later moved away from the Venezuelan leader in an attempt to promote a more centrist image that would respect investors and support business in Peru.
Chavez, like many military officers in South America, came to Peru as a young officer for training at the Chorrillos military academy during the military regime of General Juan Velasco, who strongly influenced his political views.
President Humala will be travelling to Caracas for the funeral.