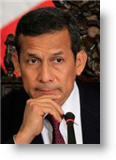 President Ollanta Humala saw his approval rating fall in March, the first time in several months, due to a perception that his government is failing to tackle crime, according to new poll.
Polling firm Datum Internacional said that Humala's approval rating is 51 percent, down from 57 percent in the February. His disapproval rating rose to 42 percent from 36 percent, Datum said.
The decline in support for Peru's president comes as his government faces increasing pressure from political opponents over recent high-profile killings in Lima.
The most recent incident was late Tuesday night when car thieves shot and killed a police officer and wounded a municipal security guard in the Lima district of Magdalena. The young officer, Delia Grozo, was shot five times and died on arrival at the police hospital nearby.  Last month, a man was killed when masked men burst into a notary public's office and stole some $110,000 in cash. The notary's office is located only a few meters from two police stations.
A few days later, a photojournalist from Peru's biggest daily, El Comercio, was gunned down outside his home in the middle class district of Pueblo Libre. Both attacks, which occurred in broad daylight, were seen by many that criminals are becoming more bold and violent.
Humala's opponents have since been calling for the resignation of Interior Minister Wilfredo Pedraza and the head of the national police, Raul Salazar.
On Tuesday, Pedraza gave a long speech to Congress in which he defended his work at the ministry. He said there is currently a deficit of 30,000 police officers in Peru, and that the ministry is working on training new officers.