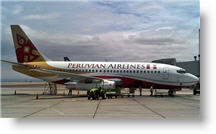 Irish aircraft leasing and operating company Aergo Group is set to buy a controlling interest in Peruvian Airlines, daily El Comercio reported.
Peruvian Airlines owner Cesar Cataño said that Aergo will pay $50 million for a 65% interest in the local airline firm.
Aergo plans to send a delegation to Peru next week to close the deal. "We hope that the transaction goes through, because it will be important for our company," said Cataño. "It will allow us to increase the fleet and expand operations on a national and international scale."
Aergo intends to increase Peruvian Airlines flights throughout South America, Miami and some cities in Europe, including Dublin.
In addition to the $50 million payment, Aergo will also need to take on Peruvian Airlines' current debt of 20 million soles ($7.22 m), among other expenditures.
In August, the government grounded Peruvian Airlines for 90 days on reports that the company had insufficient safety measures. The company had two incidents this year, although Cataño called the measure "exaggerated" and "abusive."
Other airlines that provide domestic service in Peru include Chile's LAN, as well as Star Peru and Taca.