By Paula Dupraz-Dobias —
GENEVA, SWITZERLAND – A world premier presenting Mochica funerary relics discovered in 2008, on loan from Peru's Culture Ministry, opened Friday 31 October in this city's new Ethnography Museum (MEG), in a year marking 50 years of Swiss economic cooperation in Peru.
The exhibit, highlighting a large 1500 year-old archeological collection found at the Huaca El Pueblo, near the northern coastal village of Ucupe, is the last step in a long process involving intricate restoration work financially supported by the Swiss government.
"Switzerland is one of the most important cultural collaborators in Peru, with a tradition of investigators," Sonia Guillen, the director of Peruvian National Museums, told the Peruvian Times at the exhibit's inauguration. "In this case, this involved excavation work, conservation and finally the selection made for this exhibit."
Leonid Velarde, commissioner of the museum's temporary show "Mochica Kings,"added, "Often there is not much money available for conservation and restoration, as it follows discovery. Many times objects are stored in depots until someone cares for them. So the collaboration with the Swiss government here was fundamental."
MEG's director, Boris Wastiau, said Swiss financial support towards restoration of the artifacts amounted to CHF 75,000 ($78,000).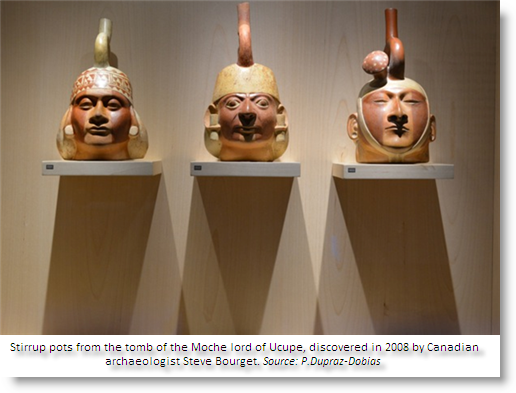 Excavation of the "Señor de Ucupe" tomb near the town of Chiclayo was initially kept under wraps by Canadian archeologist Steve Bourget, for fear of looting, as had occurred at the nearby Sipan site.
Velarde pointed out a large gold royal ceremonial ornament on display at the MEG, looted from Sipan and later recovered in the United States in an attempted sale for $1.6 million.
A cooperation agreement on the importation and return of cultural goods, originally approved by Switzerland and Peru in 2006, is expected to be signed soon, according to authorities in both countries.
Guillen explained: "Illicit trafficking is an issue where legislation and accords play a part. But the results are not always conclusive. The initiatives (by the two parties) place a greater emphasis on the need for collaboration in order to protect the patrimony."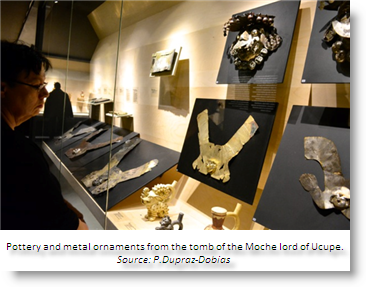 She said that it was hoped that improved identification methods of looted property would allow trafficking cases to be more easily resolved.
Last year, a single ceramic, originating from the Chancay culture and apparently looted from a pillaged grave, was returned to Peru after a Geneva resident attempted to sell it online.
Peru attempted to halt the sale of part of a large, well-known collection belonging to a Swiss, Jean Barbier-Mueller, at Sotheby's in Paris in May 2013. The sale of items from the collection, begun in the 1920's by Barbier-Mueller's grandfather, went ahead anyway.
When asked about the importance of Switzerland in the  illegal trade of pre-Columbian art, Guillen specified that, "Europe, in general, is a more attractive market for illegal trafficking of cultural property because of its economic solvency."
Looting and trafficking of cultural patrimony presents a challenge for Peruvian authorities, as many archeological areas remain unguarded and exposed, and traffickers find means of exporting goods across borders.