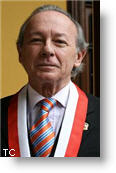 The process of some 4,300 cases being heard by Peru's Constitutional Court will be affected by the resignation of one of the justices, according to the head of the court, Oscar Urviola.
On Monday, the Constitutional Court decided to declare the vacancy of the post from which Justice Ricardo Beaumont has resigned, ruling that the judge had incurred in "inexcusable non-compliance with the duties inherent to his position."  Justice Beaumont stepped down last month to protest inaction by Congress in naming his successor.
Beaumont was one of six judges appointed to the Constitutional Court for a five-year term. That term ended nine months ago, but the judges have remained at the court as Congress has failed to name their successors. Beaumont believes his resignation is the only way to push Congress to finally take action.  "It is not correct" to stay on, Beaumont said, even though he said some justices might find it "very advantageous."  
The Constitutional Court, Oscar Urviola, said that Beaumont's resignation will affect "thousands of citizens who are waiting for rulings," according to daily El Comercio. However, the remaining judges on the court have now said they will resign on June 15 if Congress does not make the appointments by then.
Lawmakers' delay in appointing replacements to the court highlights the weakness of the institution and the sharp divisions among political parties. President Ollanta Humala's ruling Gana Peru party has a minority in parliament, forcing it to rely on other political groups in order to pass legislation.
However, in addition to the Constitutional Court, Congress has also failed to appoint three members to the board of directors of the Central Reserve Bank of Peru, and even more importantly, has dragged its heals to elect the head of the Defensoria del Pueblo, the country's ombudsman.
Beatriz Merino resigned as the country's ombudsman on March 30, 2011, and she was succeeded temporarily by her deputy ombudsman, Eduardo Vega. Despite Merino's recommendation that Vega be elected to the post, Congress has not moved on the issue for more than 19 months now.