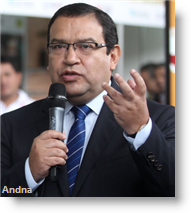 Peru's government has created a no-fly zone in the country's top coca-producing region, according to the head of Peru's anti-drug agency Devida, in its latest effort to curb cocaine production.
Alberto Otarola said in a press conference Wednesday that the no-fly zone will encompass the Apurimac, Ene and Mantaro River Valleys, known strategically as the VRAEM. The VRAEM is the biggest producer of coca leaves, the raw material used to make cocaine, in the world.
Much of the cocaine that is produced in the VRAEM leaves by small, single-engined aircraft that fly into Peru from Bolivia (see PT, Dec 5, 2014). The government has struggled to curtail the use of the airplanes, so far just relying on the destruction of the runways that are built in the jungle (as reported last year, PT Jan.8, 2014).
Otarola also said that the government is preparing a bill to be sent to Congress that would allow Peru to restart an aerial interdiction program targeting the drug-smuggling planes.   A series of reports on the increased use of small planes in the VRAEM was published by Gustavo Gorriti's IDL Reporteros.
Peru had a similar program in th 1990s, but it was discontinued after the Air Force, on data supplied by US DEA observations,   shot down a family of U.S. missionaries by mistake, causing an international outcry.
Otarola said that the new program would respect international conventions that Peru has signed.
Peru is the top producer of cocaine in the world, which is produced in several areas but more heavily in the valleys that make up the VRAEM region, to markets in Brazil, Europe and elsewhere.
In addition to tackling trafficking, the government employs an eradication program of coca bushes to combat the drug trade. This year, the government plans to eradicate a record 35,000 hectares, Otarola said. Last year, the government eradicated just over 30,000 hectares, which was also a record. In the two previous administrations, the annual target was closer to 10,000 ha.