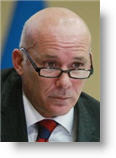 Peru's free trade deal with South Korea, which was signed in March in Seoul, is scheduled to come into force in August, Foreign Trade Minister Eduardo Ferreyros said.
"This agreement opens up an important market of approximately 50 million potential consumers who have a per capita income of more than $17,000 and who could buy Peruvian products," state news agency Andina reported Ferreyros as saying.
Ferreyros said that the FTA will increase bilateral trade on primary goods, while Peru will also see an increase in imports of high quality vehicles and electronic equipment at a lower price.
Peru also has also concluded talks on a trade deal with Japan. Authorities in both countries are advancing paper work so the FTA can come into effect, which isn't expected to be until after August, Ferreyros said.
In addition, Peru will begin talks with India this Monday on a trade accord. "India is one of the world's most important markets, with more tan 1.4 billion inhabitants, that Peru can provide manufactured, agriculture and fishing products," the minister said.
Meanwhile, Ferreyro said Tuesday that Peruvian exports to Argentina and Brazil will have almost no tariffs starting in 2012. The exports will benefit from an economic pact that Peru has with Mercosur, a political and economic group that also includes Paraguay and Uruguay.