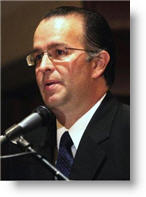 Peru expects to reach its goal of receiving 2.8 million tourists this year, Foreign Trade and Tourism Minister Jose Luis Silva said.
Silva said that in the first nine months of 2012, 2.1 million visitors have arrived in Peru, putting the country on track to reach its target of 2.8 million, state news agency Andina reported.
The strong influx of tourism to the Andean nation has created some challenges, Silva said, pointing to needs to update infrastructure.
"We've grown faster than planned so we have some needs to improve infrastructure in the airport and continue expanding hotel infrastructure and support tourism," the minister said.
Peru's top tourist attraction is the Inca citadel of Machu Picchu.
Other areas that are popular for tourists, particularly Cajamarca region, have seen a setback in tourism due to social protests over mining projects. Several protesters were killed earlier this year in Cajamarca when they clashed with police over Newmont Mining's $5.0 billion Minas Conga gold and copper project.
"All of Peru is growing due to foreign tourism and as well with trips by Peruvians within the country, so it would help if things in Cajamarca settled down in order to benefit from these visits," Silva said.