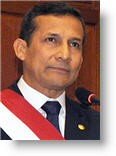 President Ollanta Humala is planning to travel to Antarctica later this month, the first time that a Peruvian head of state is to visit the southern continent.
Humala is waiting for authorization from Peru's Congress to travel to the Machu Picchu Scientific Base from February 8 to 11, state news agency Andina reported.
The trip is to mark the 25th anniversary of the first Peruvian expedition to Antarctica.  The scientific research ship Humboldt, owned by Peru's Instituto del Mar, is currently in Antarctica on its 21st summer expedition.
The Machu Picchu base, named after Peru's famous Inca citadel, is a scientific research facility located on King George Island.
The base, which was opened in 1989, conducts research in several different areas, including biological, climatology and geological research as well as providing data on the ozone layer.
Cold waters from Antarctica are central to Peru's climate and fishing off the South American country's coast.