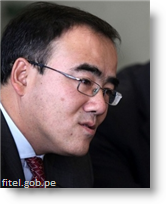 Peru will find it more challenging to continue posting robust economic growth during the next decade, a high-level government official said, pointing to the need for a greater presence of the State in the economy.
Transport and Communications minister Jose Gallardo Ku, an economist who is on the board of the Central Bank, said that Peru will need "more state" during the next decade to maintain strong growth, daily Gestion reported.
"Talk to my colleagues in the cabinet, with [Production minister] Piero [Ghezzi] and with [Finance minister] Alonso [Segura], we are quite convinced that growth during the coming decade is going to be more elusive," Gallardo Ku said.
In terms of the role of the State, Gallardo Ku pointed to the need for government help in developing the telecommunications infrastructure to support the economy.
"If we aren't capable of offering high-speed Internet in every region of the country, the efforts in education and health and many other efforts in diversifying production aren't going to be achieved," he said.
Peru's mining-driven economy has slowed down this year due to the end of a global commodities boom driven by China's demand for copper, lead, zinc and other minerals that Peru produces.
The economy is seen as growing about 3% in 2014, from 5.8% in 2013, according to the Central Bank.